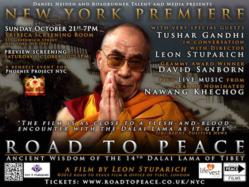 New York, New York (PRWEB) October 16, 2012
The New York city premiere of the Dalai Lama documentary ROAD TO PEACE will occur on Sunday October 21st 7 PM at Tribeca Screening Room. The VIP Premiere will coincide with the Dalai Lama's visit to New York City. For the first time ever on film, this intimate portrait captures the simple, human and humorous side of the Dalai Lama and reveals his personal and powerful legacy for future generations
London filmmaker, Leon Stuparich followed The Dalai Lama for two weeks as he traveled around Great Britain. This intimate documentary candidly reveals his nature and wisdom, and shows how he inspires millions of people of all nationalities and creeds to live more meaningful lives in harmony with each other and with the planet on which we live.
Leon Stuparich was driven to make this film "partially because of my own curiosity about the man behind the myth. What does he do behind the scenes? Does he really have the incredible presence that people who have met him always refer to? In addition, like anyone else who is striving for happiness, I hoped that what he shared would move me in some way, and teach me how to live a more centered, peaceful life. I was not disappointed."
The VIP PREMIERE will open with a performance by Grammy nominated Nawang Khechog who will arrive right after performing at the Lincoln Center event for The Dalai Lama.The evening's festivities will include Leon Stuparich, Tushar Gandhi, and Grammy Award winner David Sanborn. Gandhi and Stuparich will have an in-depth discussion about Universal Responsibility and audience Q &A.
Special guests include:
Tushar Gandhi is the Great Grandson of Mahatma Gandhi, and in true Gandhian style, he has dedicated his life to spreading the message of non-violence and positive change. In 1996 Tushar was appointed President of the Lok Seva Trust, a voluntary organization working with factory workers and the economically weaker sections of Mumbai, in the field of education, legal aid, and healthcare. He established the Mahatma Gandhi Foundation to make Gandhi's message available globally on the Internet.
Tushar is involved with the US based peace organization 'Seeds for Peace' which works with children. In August 2001 he was invited by an NGO "Peace Initiatives", to join a group of journalists and social activists to visit strife torn Kashmir, to interact with the leaders of the separatist 'Hurriyat Conference', the police and the Chief Minister of J&K with the aim to explore the possibility of achieving peace through development and economic programs.
Nawang Khechog is a Grammy Nominee and the most famous Tibetan Flautist in the World. He is also a composer and recipient of many awards from U.S, Tibet, India and Nepal. He has toured around the world and has produced many CD's. His signature sound and music are incorporated throughout ROAD TO PEACE. His music can be heard in many films, including the Hollywood film SEVEN YEARS IN TIBET.
Nawang was monk for 11 years living in the foothills of the Himalayas as a hermit. He meditated for 4 years, was sponsored, and guided by His Holiness the Dalai Lama. He tries to utilize his music to help make humanity more peaceful and compassionate, and uses his talent to help assist with the freedom of the Tibetan People.
David Sanborn is renowned and revered through out the world as one of the greatest saxophone players of all-time. He has released 24 albums and won six Grammy Awards. He has had eight Gold albums and one Platinum album. A naturally gifted performer, David has helped defined the saxophone's modern sound while influencing a generation. Having inspired countless other musicians, he has worked in many genres which typically blend instrumental pop, R&B and lately, more and more traditional jazz. He released his first solo album Taking Off in 1975, but has been playing the saxophone since before he was in high school when he was inspired by the great Chicago blues artists near his hometown of St. Louis.
Leon Stuparich made a conscious decision to have his U.S. Premiere in NYC and donate all proceeds from the screenings. He chose four charities to assist. Tibet House Trust will receive 5% of profits from the film. The weekend is a benefit for Phoenix Project NYC. In addition, Life Vest Inside and Pay it Forward will receive a donation.
Phoenix Project NYC, created by Laura Gosheff and Sheri Heller, is a multi-level creative arts workshop committed to healing and inspiring at-risk, culturally under-served women and girls. The workshop begins with attending Gosheff/Heller's play, LET THE PHOENIX RISE is produced and directed by Daniel Neiden.
Life Vest Inside is based in Brooklyn, NY and founded by Orly Wahba. Life Vest Inside is based on her philosophy that increasing kindness in society, will lead to more connectedness and a better, happier world. As part of their campaign to spread kindness, the founder created a video called KINDNESS BOOMERANG. The video has had over 20 million hits throughout YouTube. The video tracks one act of kindness as it is passed from one individual to the next and manages to boomerang back to the person who set the events in motion.
Pay It Forward is a registered 501(c)3 non-profit organisation committed to sharing the message of the exponential growth of kindness with no expectation of anything in return.
If one person does an act of kindness for 3 people and each of those pay it forward (instead of back) to 3 people and so on, after 2 weeks, those initial acts of kindness will have touched 4.7 million people. Kindness creates huge change and yet starts with just one person. Pay It Forward shows how simple it is for one person to change the world.
Tibet House Trust is a UK registered charity, inaugurated in 1994 by His Holiness the Dalai Lama, the patron of the Trust. Its purpose is to preserve the distinct Tibetan culture, identity and enable the Tibetan to attain a sustainable life in exile while working for an eventual return to their homeland. For 15 years, The Tibet House Trust has been the primary funding organization to deliver the education, health, culture, community and economic development programs serving more than 120,000 Tibetan refugees living in India, Nepal and Bhutan. Their aim is to promote the sustainable livelihood which improves overall socio-economic self reliance so that the Tibetan people are able to survive in exile with self-esteem and confidence.
The weekend festivities at the Tribeca Screening Room are presented by Daniel Neiden and Kathy Horn of Roadrunner Talent. To celebrate His Holiness NY city weekend and be a part of the special screenings of ROAD TO PEACE visit Eventbrite http://roadtopeacefilmnyc.eventbrite.com/.
# # #
For more information or to schedule an interview contact; Kathy Horn of Roadrunner Talent 718-913 4858 or email: Kathy(at)Roadrunnertalent(dot)com