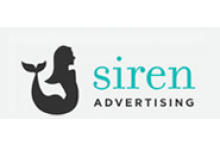 "We are so honored to be named to this exclusive list of highly successful companies," says Max Entin, CEO of Siren Advertising.
Toronto, Canada (PRWEB) October 17, 2012
PROFIT magazine recently ranked Siren Advertising #18 on its 13th annual PROFIT HOT 50, the definitive ranking of Canada's Top New Growth Companies. Published in the October issue of PROFIT magazine and online at PROFITguide.com, the PROFIT HOT 50 ranks young firms by two-year revenue growth.
With a home office in Toronto, Siren Advertising saw 474% growth from 2009 to 2011 and a healthy profit margin. What propels Siren Advertising high above traditional advertising agencies is that they are willing to take on all the financial risk resulting from advertising campaigns they create. Rather than charge fees for implementing advertising campaigns, they charge a percentage of resulting sales or referrals. This approach has made them highly sought after and extremely effective.
"We are so honored to be named to this exclusive list of highly successful companies," says Max Entin, CEO of Siren Advertising. "We attribute our explosive growth to our unique business model. We are not in the business of selling advertising, but rather to partner with our clients to create successful advertising campaigns. We are so confident in our quality of work that we are willing to take on the financial risk and invest our own money into our client's campaigns."
"A talented and diverse group of entrepreneurs have built this year's HOT 50 companies," says Ian Portsmouth, Publisher and Editor-in-Chief of PROFIT. "Their creativity and ambition spell a bright future for their businesses, and point the way to success in Canada's ever-challenging economy."
About PROFIT Magazine and PROFITguide.com
PROFIT: Your Guide to Business Success is Canada's preeminent publication dedicated to the management issues and opportunities facing small and mid-sized businesses. For 30 years, Canadian entrepreneurs and senior managers across a vast array of economic sectors have remained loyal to PROFIT because it's a timely and reliable source of actionable information that helps them achieve business success and get the recognition they deserve for generating positive economic and social change. Visit PROFIT online at http://www.PROFITguide.com.
About Siren Advertising
Siren Advertising is an innovative advertising agency that partners with clients and invests their own money into client's ad campaigns in exchange for revenue share. With headquarters in Toronto, Canada and staff across North America and Europe that speak many languages, Siren Advertising is dedicated to helping grow sales globally. Clients run successful ad campaigns in many countries including USA, Canada, Mexico, Brazil, Ecuador, UK, Germany, France, Netherlands, Belgium, Austria, Denmark, Finland, Sweden, Norway, Romania, Colombia, Singapore, Hong Kong, Israel, Ireland, Korea and Argentina. Visit http://www.sirenadvertising.com to learn more.