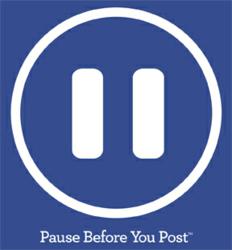 The Pause Before You Post campaign has provided an easy way to remind students about using social media responsibly.
Minneapolis, MN (PRWEB) October 16, 2012
Jostens Pause Before You Post is a public service campaign designed to help students establish responsible habits for posting and sharing information through social media and other forms of online and mobile technology. First introduced to schools in 2010, the widely-used program is based on research by recognized cyberbullying experts Dr. Sameer Hinduja and Dr. Justin W. Patchin, co-founders of the Cyberbullying Research Center (http://www.cyberbullying.us). The program also creates an awareness and understanding of cyberbullying and is being used by schools during Bullying Prevention Month in October and throughout the school year.
"The Pause Before You Post campaign has provided an easy way for GLHS to remind students about using social media responsibly," said Dwight Carter, Principal, Gahanna Lincoln High School. "The phrase "sticks" and has become a common slogan amongst staff members, students, and parents. Our students understand its meaning, its importance, and are modeling responsible digital citizenship as a result of it."
Gahanna High School is located in Gahanna, Ohio and was among the first schools to implement the program. Principal Carter added, "We are an open campus, meaning we allow students to use their mobile devices throughout the day and we allow them to access Twitter, Facebook, and their blogs during the school day. So the Pause Before You Post campaign has been a timely addition to GLHS. We not only promote responsible use during the month of October, but nearly every day as well."
Pause Before You Post helps students understand how to successfully manage their digital reputations while learning about the issues and effects of cyberbullying. Pause Before You Post materials provide dependable ways to avoid even unintentional involvement with cyberbullying. Tips include:

Do not post or share any information or images that can cause embarrassment to you or others.
Avoid online arguments, disrespectful conversations or online complaining.
Do not post content when you are upset or emotional.
Actively manage "friends" to avoid guilt by association.
"I feel strongly that the "Pause Before You Post" program has definitely had a positive impact on increasing community awareness surrounding the issues of cyberbullying and the urgency of thinking before sending any message via social media," said Tom Nichols, Principal, North Stafford High School, Stafford, Virginia. "It is so important to let our students know that the consequences of not pausing before posting may follow them the rest of their lives. When they realize how much their words may harm others, they make good decisions."
"We understand the negative impact that cyberbullying can have on families and schools. Jostens representatives deliver Pause Before You Post as part of our mission to help schools create and sustain the positive culture required for academic achievement," said Jostens Director of Educator Services Charley Nelson.
Pause Before You Post also includes information to help families understand and reinforce online responsibility and safety. Program materials are also available in Spanish and French. Additional information is available online at http://www.jostens.com/pause or by contacting a Jostens representative. During October, Jostens is encouraging and incenting a call to action for students to submit a video on Facebook saying why they pause before they post at http://on.fb.me/R88CiU.
About Jostens
Minneapolis-based Jostens is a provider of products, programs and services that help people tell their stories, celebrate important traditions and recognize achievements. The company's products include school yearbooks and other memory book products, scholastic products such as class rings and graduation products, and products for athletic champions and their fans. Jostens is a subsidiary of Visant Corporation, a marketing and publishing services enterprise servicing the school affinity, direct marketing, fragrance and cosmetics sampling and educational and trade publishing segments.
# # #