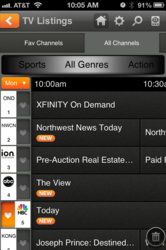 We're very proud to offer such a useful piece of technology. Not only does it display the channel listings beautifully, but it also includes personalization features that are unique to each individual user
Seattle, WA (PRWEB) October 17, 2012
TV is America's favorite hobby, with 98% of all U.S. households having at least one set. Navigating hundreds of channels and user preferences that are unique to each individual presents a real challenge for TV viewers. Seattle-based BuddyTV has created the most efficient and personalized TV listings grid yet in their free iOS and Android app, BuddyTV Guide.
"Our new grid is unlike any other in the TV discovery space," said CEO and co-founder of BuddyTV, Andy Liu. "We're very proud to offer such a useful piece of technology. Not only does it display the channel listings beautifully, but it also includes personalization features that are unique to each individual user."
With an interactive, extremely fast scrolling layout, customizable blacklisting of channels make the grid even faster - channels that aren't useful or aren't part of the users' package can be blacklisted easily. Next to each channel on the grid is a heart, and when tapped, it becomes a "Favorite" channel, which is then added to a list of other favorites (similar to a phone's favorite contacts) for faster access.
Other features of the grid include genre filters such as sports, reality, news, and others. Once the genre filter is changed, the grid adjusts accordingly, displaying only channels that carry corresponding programs, significantly decreasing the amount of time people spend looking for something to watch. The grid also makes it much easier to scroll through airing times. Users have the ability to scroll hour-by-hour or by date and time. The grid also displays whether certain programs are "NEW" or offered in "HD."
BuddyTV initially launched the free BuddyTV Guide app in September 2010. Since then, the look and feel as well as the features continue to improve dramatically. Users have the ability to use the app as a remote, reminder service, and even as a social outlet.
The BuddyTV Guide 2.6.1 app is available for free in the app store on iTunes. To learn more, visit the BuddyTV Guide website for more details.
--
About BuddyTV:
BuddyTV's goal is to help TV fans discover their must-see TV. As the #1 independent TV site on the web, this means providing a venue for over 5 million unique visitors per month to connect with fellow fans, read the latest news and enjoy entertaining features about their favorite shows. Now, with over 400,000+ downloads on iOS and an almost perfect average user rating of 4.5 stars, the BuddyTV Guide app is enhancing and expanding the ways that consumers enjoy their TV time.
Press Contact:
For press inquiries or to arrange an interview with BuddyTV CEO Andy Liu, please contact Lindsay Hersh: Lindsay(at)buddytv(dot)com or 206.859.4180
For more information about BuddyTV and the BuddyTV Guide App, visit BuddyTV.com, and follow @BuddyTV and @BuddyTVGuide.