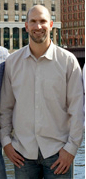 On average, a family can yield savings of 30% by staying in a vacation rental when compared to comparable hotels
New York, NY (PRWEB) October 17, 2012
ExpertFlyer.com®, the premier online air travel information tool, which now offers its award-winning Seat Alerts® feature free to all travelers, went One-on-One with FlipKey™ CEO, T.J. Mahony, to learn how the website helps consumers find the perfect vacation rental with the highest level of confidence, convenience, and safety. FlipKey is the vacation rental arm of TripAdvisor®, the world's largest travel site, which enables travelers to plan and enjoy the perfect trip. Currently, the website offers more than 160,000 properties in 7,000 cities worldwide, and works closely with owners and renters to eliminate the anxiety that often prevents consumers to explore the options of private rental properties.
During the interview, Mr. Mahony discussed a number of topics, including security measures FlipKey takes to ensure safety for owners and renters, the benefits of vacation rentals, and the estimated growth of the vacation rental industry moving forward. Mahony admits that trust and security have been critical factors in the company's success. Their Guest Review System, which posts reviews by travelers who have actually stayed in one of their vacation rentals, includes feedback on security. In addition, extensive background checks to verify the identity of the owner/manager and the authenticity of the home are conducted before any property is published on FlipKey.
"Vacation rentals are often more affordable compared to hotels while offering more space, increased privacy, and great amenities," explains Mahony. "If you're traveling with a group and you do some of your own cooking, then the savings can be significant. On average, a family can yield savings of 30% by staying in a vacation rental when compared to comparable hotels."
For travelers, FlipKey competes by creating an easy-to-search process for locating properties and the ability to communicate directly with vacation rental owners and managers to book their rental. In addition, the large collection of rental reviews by travelers who have actually stayed at these properties has greatly reduced the anxiety of first time renters as well as repeat customers.
"FlipKey is a great example of another option available to travelers who want to maximize their travel budgets with specific amenities that suit their needs," says Chris Lopinto, president and co-founder of ExpertFlyer.com. "And while FlipKey is commonly used for vacationers, it also becomes a great option for business travelers looking for 'extended stay' options."
According to Mahony, the future looks bright for vacation rentals. He estimates that there will be over $80 billion worth of worldwide vacation rental bookings in 2012 and sites a recent European study that indicates family vacationers are more likely to consider a vacation rental than a hotel. FlipKey continues to add new features to its offerings, including unique and interesting homes available for rent. In fact, if you're looking for a castle or luxury tree house to rent, FlipKey currently offers more than 200 of them around the world.
To read the entire interview with T.J. Mahony at FlipKey, please visit ExpertFlyer's blog.
About FlipKey
FlipKey™ is a leading vacation rental service that makes booking a vacation home simple and pain free. Featuring over 160,000 vacation homes and the world's largest collection of authentic vacation rental guest reviews, FlipKey ensures that consumers find the ideal vacation home with unique advantages of personal space and superior amenities in ideal locations throughout the world. FlipKey has been named a "Top Vacation Rental Site" by Travel + Leisure Magazine and was ranked one of the top 10 travel websites by the New York Post. The site has been featured across a variety of top tier media outlets including the Wall Street Journal, the New York Times, USA Today, MSNBC, SmartMoney, and the LA Times.
FlipKey is majority owned by TripAdvisor, LLC, and exclusively powers vacation rentals on TripAdvisor, which attracts more than 25 million unique monthly visitors. FlipKey is available at http://www.flipkey.com
About ExpertFlyer.com
Each month, ExpertFlyer's One-on-One blog goes face-to-face with the travel industry's leading decision makers to discuss and address topics relevant to many of today's business and frequent travelers.
ExpertFlyer.com was conceived and created by an eclectic team consisting of a veteran elite tier frequent flyer, an airline captain and corporate travel manager, and information technology professionals to deliver a 24/7 real time powerful air travel information service. The company provides its subscribers and corporate travel managers alike with a complete, concise and efficient way to access the ever-changing details of worldwide air travel information. For more information, please visit http://www.expertflyer.com.
# # #