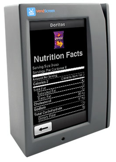 These are exciting times for the beverage industry, and VendScreen Revolution™ is exactly what beverage-focused vending operators need in order to increase revenue.
Portland, OR (PRWEB) October 18, 2012
VendScreen, Inc. is excited to announce its flagship smart device for new and existing vending machines, VendScreen Revolution™, won the 'Best Technology Innovation' award at the InterBev 2012 Awards on October 17, 2012, in Las Vegas, Nevada.
InterBev is North America's premier beverage industry event, with 200 exhibitors — including the Coca-Cola Company and Pepsi Co. — and over 2,000 attendees. InterBev is a biennial platform for business-to-business interaction, featuring specialized education sessions and keynote speakers addressing pertinent beverage-related topics.
Paresh Patel, Founder and CEO of VendScreen, Inc., accepted the 'Best Technology Innovation' award on Wednesday evening at the InterBev Awards Dinner. Earlier this year, Patel received a ConnectED Award at the Connected World Conference, and VendScreen, Inc. won the Gold NAMA iSpot Award at the NAMA OneShow.
"We are so proud to be honored again," said Patel. "These are exciting times for the beverage industry, and VendScreen Revolution™ is exactly what beverage-focused vending operators need in order to increase revenue. It tells them when to service their machines, provides automatic nutrition labeling and adds cashless payments. Everyone benefits from this technology; operators increase their profits, advertisers gain time-of-purchase visibility for their products, and consumers see enhanced value through wireless refunds and a friendly, intuitive user experience."
The VendScreen Revolution™ Device
The VendScreen Revolution™ device uses an Android operating system, which can be easily retrofitted into the cutout slot of any vending machine. For the first time in vending, advertising and promotions can be directed at the user of the machine, while the machine itself is kept in compliance with nutritional information disclosures.
VendScreen Revolution™ combines a 4.3 inch touchscreen, credit card swipe, Near Field Communications (NFC), and connections to DEX and MDB supported by all recent vending machines. VendScreen's patent pending solution integrates with back end systems like MEI and Streamware, ensuring the product and nutritional information displayed matches the contents of the machine. Unlike other solutions, this device is self-contained and installs on the front of vending machines, requiring no Velcro or complicated in-machine box solutions. The company also has an OEM version named VendScreen Realize™, which uses a larger format screen, replacing the keypad in existing machines and integrating fully with the machine's operations.
###
About VendScreen, Inc.
VendScreen, Inc. is the inventor of the VendScreen Revolution™ smart device, founded by Paresh Patel and Glenn Butler; two longtime veterans of the vending machine industry. Patel is a lifelong entrepreneur with a passion for applying breakthrough technologies to established business models. At age 17, he founded Courtesy Vending to help pay for college, then propelled the company to become the largest independent vending operator in the Portland area. Anticipating the rapidly evolving technology needs of vending operators, Patel again applied his entrepreneurial instincts, business savvy and industry experience to launch VendScreen Revolution™; a game-changing product which advances vending's position in the retail channel.
Glenn Butler is a serial entrepreneur, having been involved in many startups from the "garage" stage to pre- and post-VC funding. Only two years out of college, he co-founded Streamware Corporation and sold it 10 years later to Crane Co. In addition to focusing on VendScreen, Inc., Butler is a contributing editor to Automatic Merchandiser magazine.
For more information, please visit http://www.vendscreen.com
VendScreen Revolution is a trademark of VendScreen, Inc.