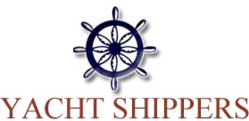 Miami, FL (PRWEB) October 19, 2012
A brand new local marine transportation company that specializes in worldwide boat transportation and yacht transportation, announced today that it will offer its clients one of the most the deluxe boat transport service options available, custom-made boat cradles.
The up and coming yacht transport company, Yacht Shippers of Miami, is having its grand opening on November 1, 2012.
Marvin Williams, the founder and CEO of Yacht Shippers, said that it is his dream to see his company revolutionize the yacht shipping and boat shipping industry by providing their clients with better customer service, better business practices, and better service options than its competitors. Williams also said he chose Miami for Yacht Shippers because of its ideal port location. Williams, a world-renowned yacht builder and designer had envisioned a shipping and logistics company that always had the client's best interests in mind.
Yacht Shippers enter the marine transportation industry well equipped to take on its opponents. They have analyzed their competitors and found that most of them offer their clients' only one cradle option, the universal cradle. Yacht Shippers is proud to offer its clients the option to have a custom-built cradle designed specifically for their particular yacht transport or boat transport. The company believes that no two vessels are exactly the same, and by using a universal cradle for every single boat or yacht shipping, you are running a major risk of damaging the vessel throughout the course of the shipping. Although it takes more capital to offer this service, Williams knows that its cost will certainly pay for itself, as clients are willing to pay a little extra for peace of mind when it comes to shipping their vessel. He believes that when given the choice, people will always choose quality. He's banking on it.
Based on a recent survey taken by 120 yacht and boat owners representing the tri-county area (Palm Beach, Broward, and Dade County and Dade), yacht owners are looking for more options when it comes to hiring a company that specializes in boat transportation and yacht transportation. They are doing their homework and going with the companies that offer a more customized boat transport service as opposed to hiring one of the many companies with the "one size fits all" approach. Yacht Shippers is projected to do well in the boat shipping and yacht shipping sector due to the companies fresh new approach to the yacht transport.
For more information on Yacht Shippers and the services they provide call +1-561-921-8775