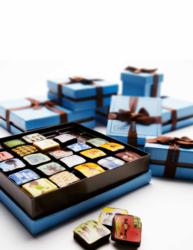 "Mr. Tomita created this beautiful garment with our chocolates," said Maribel Lieberman, CEO & Founder of MarieBelle NY. "His approach to kimono design mirrors my own approach to chocolate making."
New York, NY (PRWEB) October 17, 2012
On Wednesday, November 7th, luxury confections brand MarieBelle New York will host a night of fashion, art, and chocolate, with Tradition, Updated: MarieBelle NYC Presents Nobuaki Tomita and The Art of Kimono. This special evening will feature the creations of kimono designer Nobuaki Tomita, of Kyoto, Japan. Mr. Tomita's kimono collection includes a specially made silk kimono that has been dyed using MarieBelle New York's rich chocolate. This MarieBelle kimono depicts a Japanese cherry blossom design in the brand's signature brown-and-blue color palate. Tomita has previously used other edibles in the dying process including green apples and radishes.
The fashion show and presentation follows the grand opening of MarieBelle New York's first international retail space in Kyoto. "Mr. Tomita created this beautiful garment with our chocolates, and we were so proud to showcase it at our Kyoto store opening," said Maribel Lieberman, the CEO and Founder of MarieBelle New York. "His approach to kimono design mirrors my own approach to chocolate making in that he truly respects tradition and refined style while translating the art form into something applicable to today's fashion. I'm excited to bring his beautiful kimonos to New York."
Mr. Tomita will showcase his modernized approach to kimono design, including eco-friendly dyes and creatively folded garments that can be turned into a Western-style evening gown. "Kimono design is a historic art form, but I am interested in bringing it forward into the future with new styles," he explained. "There are many natural synergies between my designs and MarieBelle New York--we are both dedicated to making something classic work in today's world."
The event will be held on Wednesday, November 7th, 2012, at 6PM at one of Manhattan's premiere luxury hotels, The Lowell. MarieBelle New York will host this special evening in the property's The Pembroke Room. The Lowell Hotel is located at 28 East Sixty Third Street. To attend, please RSVP to paula(at)495communications(dot)com.
About Nobuaki Tomita
Originally from Kyoto, Japan, Nobuaki Tomita is considered one of the most influential and creative kimono designers of today. Tomita is known for his knowledge about the traditional method of kimono design, as well as his innovative approach to the artform. His life's work has been dedicated to helping promote, preserve, and evolve this important cultural tradition. Nobuaki Tomita is the founder and CEO of kimono design and styling company, "Kyokaori," and has worked on numerous NHK Television programs, drama series and Japanese films as a costume coordinator and supervisor. Tomita travels worldwide to present kimono shows and teach about Japanese textiles and fashion.
About MarieBelle New York
Luxury confections brand MarieBelle New York was launched in Spring 2000 by entrepreneur Maribel Lieberman. The MarieBelle experience starts with the brand's signature box of vivid blue and deep brown, which opens to reveal the visually stunning chocolates, as well as the heady aroma of the rich, pure chocolate, and then finally to the creamy, smooth taste of our over 25 different ganache flavors.
The company's extensive product line includes colorful candies, creamy chocolate bars, and even table-top and gift items. The brand is also famous for their Aztec Hot Chocolate, a coveted beverage that is available in four flavors—Aztec Regular, Aztec Dark, Aztec Mocha, and Aztec Spicy.
The company's renown chocolate brand is currently sold in the US, Europe and Asia. Fans can visit the brand's flagship location in New York City's SoHo neighborhood, at 484 Broome Street. The brand's first international shop opened in Kyoto, Japan, in the Spring of 2012. The entire line of delectable chocolates and confections are also available on the World Wide Web at http://www.mariebelle.com.
For more information or to RSVP for this event on Wednesday, November 7th, 2012, at 6PM, email Paula Keung at paula(at)495communications(dot)com
# # #