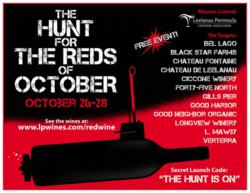 I think we've all developed methods that are allowing us to make the best reds possible. Having three straight outstanding vintages in 2010, 2011 & 2012 doesn't hurt a bit either!
~ Ryan Sterkenberg, Gill's Pier Owner
Leelanau Peninsula, MI (PRWEB) October 17, 2012
To help everyone go beneath the surface, Leelanau Peninsula Wine Trail is excited to announce a free & fun event to bring attention to the red wines of Michigan's Wine Coast. The Hunt for the Reds of October will take place the weekend of October 26-28, 2012. For the entire weekend, 12 wineries will be offering free tasting of a diverse selection of red wines: dark & spicy Cabernet Francs, smooth & floral Pinot Noirs and a diverse range of vinifera and hybrid reds that are representative of Leelanau's vineyards.
"From the vineyard managers to winemakers to cellar masters, I think we've all developed methods that are allowing us to make the best reds possible on the Leelanau Peninsula. Our wines are maturing in all aspects due to the patience and understanding that experience brings to every phase of the winemaking process," says Ryan Sterkenberg, owner of Gills Pier Winery. "Of course, having three straight outstanding vintages in 2010, 2011 and 2012 doesn't hurt a bit either."
We invite you to sample some of the fruits of these and other vintages the last weekend of October or another time. The event is free to all who know the secret launch code: "The Hunt is on!" Get details and updates at http://www.lpwines.com/redwine. (click for high-res poster)
The Wines:
Bel Lago will be pouring their 2010 Tempesta: a perfect storm of a select harvest of robust grapes from an excellent growing season. Cabernet Franc, Regent, Dornfelder, Lemburger, and other carefully selected varieties were aged 18 months in American and French oak barrels to create this richly flavorful, complex red wine.
Black Star Farms offers their Vintner's Select: a merlot-based blend of select small lots with unique characteristics. This premium dry red is full-bodied with rich dark fruit flavors that are complemented by hints of cocoa and spice. It is reminiscent of a Bordeaux-style blend and pairs well with robust meals including braised meats, stews and rich sauces.
Chateau de Leelanau will pour their 2011 Hawkins Red: Elegant and smooth, this light bodied red has an unbelievable strawberry nose and finishes with a dry peppery kick!
Chateau Fontaine will pour their 2011 Woodland Red: A blend of Cabernet Franc, Cabernet Sauvignon, Merlot, and Syrah with aromas of rich, ripe fruit, nuances of blackberry and plum; the taste is luscious raspberry and pepper accented with soft tannins.
Ciccone Winery will offer their Due Rossi, a 2011 NEW Release! Blend of Marechal Foch & DeChaunac. This hearty semi-dry blend exhibits rich ripe flavors of plum and blackberry with a touch of pepper in the finish.
Forty-Five North offers their 45 Red: A blend of 35% Cabernet Franc, 35% Cabernet Sauvignon & 30% Pinot Noir, aged in French oak for 11 months. Notes of blackberry and dark cherry with soft tannins up front and bit of spice.
Gill's Pier will be pouring their 2010 Estate Cab Franc/Merlot: A French barreled, full-bodied Bordeaux style wine with deep flavors of black currant and raspberry with a hint of mint. Excellent finish. Extended cellaring option of 5-15 years.
Good Harbor will pour their Collaboration: A blend of Cabernet Sauvignon, Merlot, Marechal Foch, Leon Millot, Chambourcin, Dechaunac. First the dark fruit aromas will catch your attention only then to be surprised by the cocoa and cedar nuances that follow. If it's possible to be bold and elegant together, this wine has achieved just that. A rich, dry, complex wine.
Good Neighbor Organic will pour their Black Velvet: smooth, yet light bodied with 12.5% ABV, and just a hint of pepper.
L. Mawby offers a red disguised as a white, our Blanc de Noirs, from Pinot Noir. Enjoy this imposter as your search for red reds continues.
Longview Winery's 2008 Barrel Reserve Cabernet Franc spent 18 months in French oak barrels and 2 years in the bottle. The reward for patience is clear – a ruby red, mouth filling and full-bodied red wine displaying blackberry, plum and spice with hints of vanilla and cocoa.
Verterra will pour their 2011 Reserve Red, a blend of Cabernet Franc, Cabernet Sauvignon and Merlot aged in French and American Oak hybrid barrels.
###
LPVA was formed in 2000 with a goal to help spread the word about all the wonderful things our wine trail and the Leelanau Peninsula has to offer. Today, it is the largest and strongest of the four organized wine trails in Michigan which promote the state's nearly $790 million grape/wine industry.
For more information contact Andy or Sarah at the LPVA office: 231-421-1172 or email: info@lpwines.com
Leelanau Peninsula Vintners Association
http://lpwines.com/
Join our Facebook pages and connect with other Leelanau wine lovers!
http://www.facebook.com/lpwines
http://www.facebook.com/tcwinefest