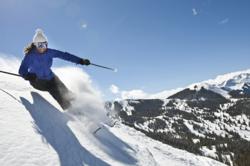 Sitting inside a breathtaking box canyon in the San Juan Mountains, surrounded by stunning peaks, Telluride (No. 1 for Scenery) has readers raving.
Telluride, CO (PRWEB) October 18, 2012
The snow sports community has spoken: Telluride has jumped the ranks in Ski Magazine's 2013 Resort Guide from a commendable 10th place in the 2012 rankings to the 5th overall best ski resort in North America.
Telluride is authentic Colorado skiing at its finest. The immense variety of ski terrain is boast-worthy with 2,000 vertical feet of skiing off of Palmyra Peak into Revelation Bowl and hike-to chutes with tight couloirs for big mountain skiers and riders, bumps and trees for miles for the technical skier, and gorgeously smooth family groomers. But it was the spectacular San Juan Mountain scenery that set Telluride apart from the others. "Who books a ski vacation based on scenery alone? Folks who've been to Telluride, that's who," Ski Magazine quotes about our No. 1 ranking for Scenery in the Resort Survey.
Telluride and Mountain Village allow visitors the best of both worlds in a ski town experience, earning us the No. 2 Character rank. Historic downtown Telluride is a, "snapshot of the good old days." The Old West mining character remains in places like the Sheridan Opera House that has been in continuous use since its construction in 1913, and world-class dining and shopping add a luxurious twist to the laid back vibe. The slope-side Mountain Village is modeled after a European-style alpine ski town with modern architecture and refined dining, shopping, and spa experiences sprinkled amongst its many plazas. Five star accommodations in both Telluride and Mountain Village provide guests with superior lodging options all within walking distance of either Main Street in downtown and/or the slopes of the ski resort. The ski resort can be accessed directly from both Telluride and Mountain Village, and a free gondola provides the transportation between the two.
The 2012/2013 season marks Telluride Ski Resort's 40th year in operation. Born out of an adventurous desire to immerse in the precious "white gold" or snowy powder that blankets the surrounding peaks, West Coast entrepreneur Joe Zoline opened the Telluride Ski Resort to the public in 1972. The resort has grown immensely in the past 40 years, and this year the mountain will be hosting the LG FIS Snowboard World Cup and the Telluride Skiercross/Boardercross World Cup from December 12-16, 2012.
Start planning a ski trip to paradise... today! Call (877) 507-9695. Like Telluride's Facebook Page and follow Twitter for up-to-date events, photos, videos, contests, exclusive lodging specials, discounted lift tickets and more.
About Telluride.com
Telluride.com is owned and operated by Telluride Alpine Lodging - the longest-standing, locally-owned and operated lodging company in the Telluride region. Offering a wide selection of hotel rooms, vacation homes and condominium rentals in both Telluride & Mountain Village, Telluride.com is the only place to look to find the perfect Telluride vacation rental.
Media Contact:
Hart Roberts
Marketing Manager
(970) 728-3388, ext. 155
Hart(at)Telluride(dot)com
@hartwellskis