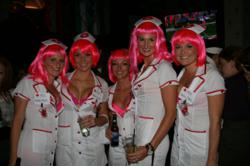 Philadelphia, PA (PRWEB) October 17, 2012
Fadó Irish Pub in Center City is hosting the Circus Halloween party on October 27 at 10pm. There is no cover charge and there will be a huge costume contest so guests are encouraged to wear their most over-the-top costumes. The best male and female costumes each receive $250 and the best group costume wins a keg party.
There will be special cotton candy cocktails and a DJ will be spinning the most ghoulish hits all night long. Because there is nothing creepier than a haunted Circus, this is sure to be the freakiest Halloween bash in Center City.
About Fadó Irish Pub and Restaurant:
Fadó (pronounced fuh-doe) Irish Pub & Restaurant was the first Irish pub to be designed and constructed in Ireland and shipped and installed in Philadelphia. Fadó is distinguished by its genuine Irish hospitality, the quality of its pints, and authentic Irish food and fun.