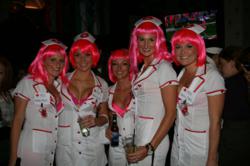 Miami, FL (PRWEB) October 18, 2012
The spookiest Halloween bash in Brickell is at Fadó Irish Pub on October 27. Guests are encouraged to go all out and wear their most outrageous costumes for the contest because great prizes are up for grabs - $300 for first place, $150 for second place, and beer and liquor prizes for third place.
There is a $5 cover charge starting at 10pm. With the fully decorated bar and the best draft beer in Brickell, guest are sure to be drink or treating late into the night.
About Fadó Irish Pub and Restaurant:
Fadó (pronounced fuh-doe) Irish Pub & Restaurant was the first Irish pub to be designed and constructed in Ireland and shipped and installed in Miami. Fadó is distinguished by its genuine Irish hospitality, the quality of its pints, and authentic Irish food and fun.