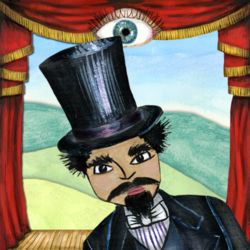 Alex Conn's genius design and Danny Elfman's music is AMAZING for the young and not-so-young. - Dorit Avganim, Theater Producer and Arts Educator
Los Angeles, CA (PRWEB) October 17, 2012
No need to run away with the circus, your kids can bring the circus home with this charming, original story and game app. Puppet Masterpiece Theater: The Circus game app captivates players with story and illustrations by Alexandra Conn and music by Danny Elfman. Based on a story written by a child, this circus app includes nine magical games, lions, seals, snakes, talking birds, a painted horse, and a villainous ring leader. Available now from Organa on iTunes for iPads. Although the app was designed with kids aged 4-7 in mind, ages 2-102 will love it too!
Puppet Masterpiece Theater: The Circus has nine games woven into a classic story of intrigue, adventure and circus delights. The circus games include lions jumping through a hoop, dressing up circus performers, painting and disguising a horse, and tempting a snake out of his basket with music. These interactive games promise to educate, entertain and engage the kids as they travel with a group of friends on a mission to get their beloved horse back – they get more than they bargained for when the circus comes to town. The whimsical hand drawn illustrations evoke the feel of a handmade puppet show. This captivating story is set to a spectacular soundtrack by Danny Elfman, Grammy award winner, known for his TV and film scores including "The Simpsons", "Nightmare Before Christmas" and most recently "Frankenweenie". The circus app has so many creative animals and obstacles that the kids will want to play the games again and again. Additional games will be offered periodically for a nominal fee.
About the Author and Artist:
The Circus is based on a puppet show written by 11-year-old Alexandra Conn and her sister while spending a summer on their Grandmother's farm in Holland. Now much older, Conn is an accomplished artist and illustrator living in Brooklyn, NY. She works in many mediums including collage, painting, graphite, digital media and fashion design.
About the Publisher:
The initial production costs were partially funded with a grant from Kickstarter! Organa's CEO founded The Criterion Collection and The Voyager Company, known for quality entertainment and ground-breaking multi-media. In 1995, Organa released the innovative "The Book of Lulu," a story that mingled animation, text and live action – it achieved worldwide sales and won multiple awards.