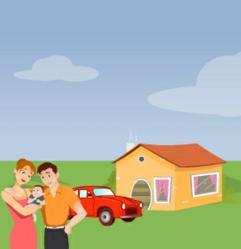 Term life insurance can cover debts like the mortgage as well as provide for the education and care of children.
(PRWEB) October 17, 2012
It's not uncommon for people to think that they don't believe they need life insurance, especially young people who many not have dependants. Unfortunately, it doesn't matter what the age is of a deceased person; there are still funeral costs, and even the youngest may leave behind debts that will be a burden on family. Choosing life insurance is a wise move, and no matter what the buyer's age, there is a policy that will fit. ComparaSave.com reminds insurance buyers to buy early, and buy right.
Young Adults
Young adults are the least likely to be giving life insurance any thought, but it is the prime time for purchasing a long-lasting policy. Because of their youth and general state of good health, young adults are eligible for some of the best rates on life insurance policies. It is a good time to invest in a whole or universal policy and lock in a low premium for the future.
"Young people may not have dependants now, but they are likely to in the future," says Tammy Ezer of ComparaSave.com "and buying now makes that coverage more affordable for the future." But preparing for the future is not the only reason to buy insurance at a young age. Many university students have loans or other debts that will fall to their parents to handle in the event of a tragedy. Life insurance can also take away the burden of funeral costs.
Marriage and Children
Getting married and having children are the two prime times for considering the need for life insurance, as people have more responsibility and a premature death would significantly affect a family. During these years, term life insurance may be the best way to obtain a large amount of coverage at a reasonable premium.
Term life insurance can cover debts like the mortgage as well as provide for the education and care of children, and can be reduced when the need for higher coverage is no longer at its peak. This is also a good time to look at a joint life insurance policy to cover both spouses at once and provide for whoever is left behind as well as the children. For some, this is an excellent option that can save on premiums, but should be compared to rates on separate policies as well.
The Senior Years
To avoid burdening children and other family or friends with any final expenses, seniors look to getting life insurance protection. With many seniors no longer carrying mortgages and without dependants at home, smaller policies are a good choice and an affordable one. Many life insurance companies now cater to the senior market and provide excellent policies meeting their needs.
The sooner a senior arranges for a life insurance policy the better, since rates will rise quickly in the later years due to the higher risk of health problems. This is not the time to wait; buy as soon as possible.
At any age, life insurance is a necessity and can serve to protect loved ones from the many financial burdens following a death. Finding the right policy is a matter of understanding what the current needs are and purchasing coverage that meets them.
About Comparasave.com
ComparaSave.com is a digital marketplace dedicated to helping Canadians save money by providing the lowest insurance and mortgage rates, as well as credit card and holiday comparisons, from a network of over 40 providers. Launched by Insurance Hotline, ComparaSave.com has partnered with insurance companies and brokers, mortgage professionals, credit unions and other financial institutions to ensure consumers get a fast, free and easy-to-use service. ComparaSave.com is a division of Insurance Hotline which is owned by Torstar Corporation, one of Canada's leading media companies with business including the Toronto Star (Canada's largest daily newspaper), Metro (Canada's largest free daily newspaper), Metroland Media Group (publishers of over 100 community and daily newspapers), and Harlequin Enterprises, a leading global publisher of women's fiction.