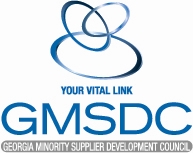 "Georgia is home to some of the finest MBE firms in the nation" - Stacey Key
Atlanta, Georgia (PRWEB) October 18, 2012
The Georgia Minority Supplier Development Council (GMSDC), Georgia's leading advocacy organization for small business development and supplier diversity, is proud to announce that two Georgia companies were selected as 2012 Regional Suppliers of the Year by the National Minority Supplier Development Council (NMSDC). Corporate Services Management and Pyramid Consulting were chosen from nominees in councils across the country to be honored by NMSDC on Wednesday, October 31st at the 2012 NMSDC Conference and Business Opportunity Fair in Denver, Colorado. For the last three years, Georgia has had multiple regional winners among the national finalists, with at least one national winner in 2010 and 2011. The Georgia Council – NMSDC Council of the Year in 2009 – is among the top councils in the NMSDC network, having been selected to host the national conference in 2011.
The NMSDC chooses a Supplier of the Year in four revenue classes, ranging from under $1 million dollars per year (Class I) to over $50 million (Class IV). Minority Business Enterprise (MBE) firms are nominated by the corporations with whom they do business for consideration on a regional level. Those firms who meet NMSDC's high standards for excellence and value-added performance are then chosen as regional winners and invited to the annual conference to compete for National Supplier of the Year. "This recognition just confirms that Georgia is home to some of the finest MBE firms in the nation," says Stacey Key, President and CEO of GMSDC. "We are thrilled that Georgia continues to produce finalists and national winners each year. Our goal is to build on the state's reputation as a great place for small business."
Local companies to be honored are:
Class III – Annual Sales Between $10 million and $50 million
Corporate Services Management Inc., Tucker, Georgia- Bert Fitts of Corporate Services Management (CSM), which provides facilities maintenance and cleaning services to Fortune 500 corporations as well as commercial, governmental and industrial properties. Revenues at CSM have grown from $1.5 Million in 1992 to over $10 million in 2011. Fitts employs 600 full-time employees and offers them incentives to move up to management level positions through a program called CM Vertical. Some of the company's prominent clients include Turner Broadcasting Systems Campus Headquarters, Mitsubishi-Conrac, Delta Airlines, Atlanta Airlines Terminal Corporation at Hartsfield-Jackson Atlanta International Airport (where CSM was named cleaning contractor of the year in 2008, 2009, and 2010) and Bombardier, which operates the airport people movers. CSM recently added the Delta space at the Newark Airport and Volkswagen of America in Chattanooga, TN to its roster. In 2011, Delta Air Lines awarded CSM its Star Award, as national Minority Owned Business of the Year. http://www.csmamerica.com
Class IV – Annual Sales in excess of $50 Million
Pyramid Consulting Inc., Alpharetta, Georgia – Sanjeev and Namita Tirath of Pyramid Consulting, an IT staffing and solutions company that provides applications, communications and infrastructure to Fortune 500 companies. In addition to Georgia, Pyramid has five other U.S. locations and offices in the UK, India and Singapore. Sanjeev is the CEO and his wife Namita is the executive vice president for sales and marketing. Pyramid has experienced an annual 35 percent growth over the last 14 years. It is one of the largest minority and privately owned IT staffing firms in the U.S. and in 2011, staffing Industry Analysts named it one of the fastest growing firms in the country. Revenues have grown from $1 million in 1996 to nearly $100 million in 2010. http://www.pyramidci.com
About GMSDC
The Georgia Minority Supplier Development Council (GMSDC) is a not-for-profit organization that fosters value-driven partnerships that may otherwise not be possible between corporate entities, ethnic minority-owned businesses and government entities in the state of Georgia. With 170 local and national corporate members and more than 700 certified MBEs, GMSDC is celebrating 37 years of offering innovative programs and industry-leading resources for enhancing the landscape for minority business development in Georgia. GMSDC is headquartered in Atlanta and is an affiliate of the National Minority Supplier Development Council (NMSDC). To learn more about GMSDC go to http://www.gmsdc.org.