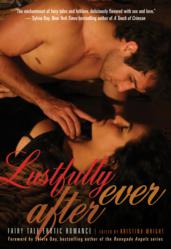 The enchantment of fairy tales and folklore, deliciously flavored with sex and love.
—Sylvia Day, author of A Touch of Crimson
(PRWEB) October 17, 2012
When it comes to fairy tales, everyone has their favorite. Beautiful princess handsome princes, witches, and bad, bad wolves. Kristina Wright curates collections of fairy tales for grown ups that are certainly not the disney versions. What is it about fairy tales that captures the imagination and heart? There's adventure, danger, romance, but in the end, everybody lives happily ever after, and so do the characters in Kristina's Lustfully Ever After and Fairy Tale Lust. Kristina did an in-depth interview with USA Today's Joyce Lamb that explores these fantasies for women.
You have an opportunity to meet and greet Kristina herself at these events:
10/20: Books-a-Million, Colonial Heights, VA - 12-2pm
10/20: Books-a-Million, Midlothian, VA - 6-8pm
KRISTINA WRIGHT is an award-winning author whose erotica and erotic romance fiction has appeared in over 75 anthologies, including three editions of Best Women's Erotica, and four editions of Best Lesbian Erotica. Kristina also received the Golden Heart Award for Romantic Suspense from RWA for her first novel, Dangerous Curves.
What's next for Kristina Wright:
Duty and Desire: Military Erotic Romance
This passionate anthology serves up a team of hot-blooded men (and women) from every branch of the military who serve their country and follow their hearts. Uniforms have never been sexier!
November 2012, 978-1-57344-823-9