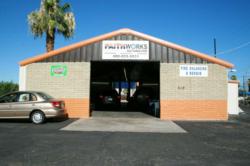 Not everyone works traditional hours, but they do need to have a reputable place to take their car for auto repairs in the Mesa area.
Mesa, AZ (PRWEB) October 18, 2012
Faith Works Auto Repair in Mesa, Arizona announced new extended hours to better serve its existing and new customers' needs. As of today, Faith Works' more flexible hours will allow more people with auto repairs in Mesa to find a trusted mechanic to fix their vehicles.
"We understand that people are working more varied shifts than ever," explained Paul Hensley, owner of Faith Works Automotive. "Not everyone works traditional hours, but they do need to have a reputable place to take their car for auto repairs in the Mesa area. I wanted to make sure that my shop could accommodate our established clients and everyone they tend to refer."
Faith Works auto repair in Mesa has based its entire business upon rendering outstanding results in order to cultivate repeat business and gain referrals. It is their hope that by offering extended hours, they can also nurture higher rates of satisfaction by delivering repaired vehicles to their owners even faster than before.
"Our customers depend on their vehicles," said Mr. Hensley. "Our goal is to return their car, truck or van quickly so they can get back to their normal routine without sacrificing the quality of their auto repair. We want to know at the end of the day that our clients are satisfied and know that we are placing their family in their reliably repaired vehicle."
As a family owned and operated facility, Faith Works Automotive's interest in ensuring mechanical safety and reliability goes much deeper than simply upholding high levels of integrity. Faith Works believes that all auto repairs conducted by their shop should be executed with the extra level of care that they would expect for their personal vehicle.
"Faith Works has always made sure that my car ran great when I got my keys back," a repeat customer told us. "I've never had to wonder if I'd have another problem with my car right away. If they see a part starting to show signs of wear or another potential problem, they let me know and give me the option to fix it right then and there. I'll never go anywhere else with my auto repair needs."
According to multiple sources, finding a quality auto repair shop can be a difficult task. However, since the majority of Faith Works Automotive's clientele has been built upon referrals, a new client can find plenty of testimonials and reviews from happy customers to help make an informed decision. Entrusting your vehicle to an auto repair shop is never easy, but with so many positive comments regarding Faith Works' level of service; prospective customers may experience more peace of mind with Faith Works than by getting auto repair services from a shop without such glowing reviews.
"It is our hope that our new hours will add to the ever-growing list of happy customers we have," said Paul Hensley. "We love hearing back from satisfied clients and getting new testimonials. That makes our day."
To learn more about Faith Works Automotive and take advantage of their new hours, you may visit their website that is dedicated to auto repair in Mesa Arizona or call Paul Hensley at 480-428-8184.