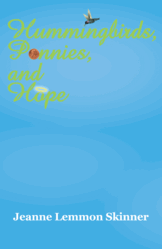 "Since I have worked with teens for so long, I see many searching for signs of God. They need to know that God is real."
Columbus, OH (PRWEB) October 17, 2012
In "Hummingbirds, Pennies, and Hope" (published by Balboa Press), debut author Jeanne Lemmon Skinner crafts an inspiring new story about Anna, an easygoing teenager who begins communicating with angels after researching the process for English class.
Anna is a typical high school student. When she takes an interest in researching angels, she discovers she can receive messages from them. Soon she rises to fame at school, being dubbed "Angel Girl" after classmates discover her supernatural ability to communicate with these otherworldly beings.
This gift brings her closer to God, but causes conflicts with family and friends as she teaches her peers how to find their own angels. Anna must choose whether to fold under the pressure or continue to listen to her angels and share their heavenly message.
Skinner, an English teacher, says she wanted to write an uplifting story for teens, because much of what her students read in young adult fiction is heavy and depressing. She also noticed that her students were searching for more meaning in their lives.
"Since I have worked with teens for so long, I see many searching for signs of God," Skinner says. "They need to know that God is real."
While Anna is Skinner's fictional creation, the author says many of the events that happen in "Hummingbirds, Pennies, and Hope" are based on real-life experiences.
"I have received pennies and seen hummingbirds in response to prayer and as a sign of support during difficult times. I have great faith and am a believer in developing a relationship with God through prayer. His angels do provide signs that our prayers are heard."
About the Author
Jeanne Lemmon Skinner has taught English for 20 years and is a graduate of Ohio State University. She attended an angel workshop in Miami, Florida, about 10 years ago that was taught by Doreen Virtue. She lives in Columbus, Ohio, and has three children and her husband has two. Together they have nine grandchildren and all regularly receive books from Grandma!