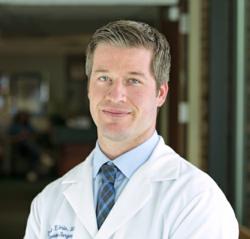 Ultimately I really wanted to help people, and I felt like this was the best profession for me to improve their quality of life.
Columbus, OH (PRWEB) October 18, 2012
Orthopedic hand and upper extremity specialist Dr. Timothy Iorio will join SportsMedicineGRANT to treat patients with work- or sports-related injuries to the finger, hand, wrist, arm or elbow.
Specific conditions that Dr. Iorio will treat include carpal tunnel, cubital tunnel, trigger finger, tendonitis, fractures and arthritis, among many others. He brings an individualized and compassionate approach to his practice and works to diagnose and treat each patient's unique condition.
Having decided to become a doctor at an early age, Iorio said he chose orthopedics in order to make a positive impact on his patients' lives.
"People of all ages have or will have some kind of orthopedic issue," he said. "Ultimately I really wanted to help people, and I felt like this was the best profession for me to improve their quality of life."
An Ohio native, Dr. Iorio attended The Ohio State University College of Medicine, and completed his residency in Orthopedic Surgery at Henry Ford Hospital in Michigan. Although he moved out of state to finish his residency and hand surgery fellowship, Iorio said that returning to Columbus has been a positive experience for him and his family.
"My wife and I are very excited to return to Ohio to work and raise our family," he said.
Dr. Iorio will see patients at SportsMedicineGRANT's offices in downtown Columbus, Westerville and Pickerington. Those interested in scheduling an appointment can call (614) 834-1500 or request an appointment online at SMGOA.com.
Learn more about Orthopedic Hand and Upper Extremity Specialist Dr. Timothy Iorio.
Dr. Iorio is an active member of the medical staff at OhioHealth Grant Medical Center — home of the premier, nationally recognized Bone and Joint Center. This all-inclusive specialty Center features a comprehensive team of physicians committed to providing patients with the most advanced treatment and therapy, including minimally invasive and muscle-sparing options, for everything from fractures to total joint replacement.
About Grant Medical Center
Founded in 1900 in Columbus' downtown, Grant Medical Center has grown into one of the top hospitals in the United States. Grant Medical Center is nationally known for specialized trauma capabilities, surgical excellence and nursing expertise. To learn more about Grant Medical Center, visit http://www.ohiohealth.com/grant.