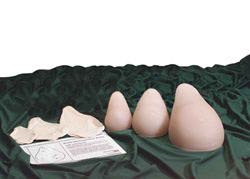 New York, NY (PRWEB) October 17, 2012
In honor of Breast Cancer Awareness Month, Medex Supply has provided The Rachael Ray Show with 150 Nasco A-B-C breast examination sets. The sets, which are used to instruct women on home self-exams to detect lumps in the breast, appeared on the October 16th episode.
The sets are constructed of durable, washable material that allows multiple users to learn the touch method of locating both benign and non-benign tumors. Early detection is key in successful treatment of breast cancer, which will be diagnosed in 1 out of 8 women in the United States, as well as 1 out of 100,000 men. It is the second most commonly diagnosed cancer in American women. Thanks to the promotion of self-examination and prompt treatment, deaths from breast cancer have been on the decline since the 1990s.
The Rachael Ray Show, hosted by cookbook author and Food Network personality Rachael Ray, airs Monday through Friday on most CBS affiliates. Produced by Oprah Winfrey, it's the winner of two Daytime Emmy Awards, and one of the highest rated daytime talk shows.
During the month of October, Medex Supply is offering an 11% coupon towards all orders, code pink11, and will donate $1 to breast cancer charities for every redemption. Based in the New York City area, Medex Supply is a worldwide distributor of more than 60,000 medical, surgical, and healthcare products. Founded in 2000, the company works wtih government agencies, medical and educational facilities, as well as direct to the public. For more information, visit their website at http://www.medexsupply.com, or by calling 1-888-433-2300.