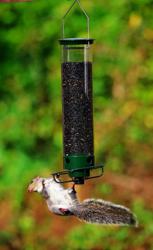 Plainfield, CT (PRWEB) October 22, 2012
For squirrels, it's the holiDAZE thanks to the Yankee Flipper squirrel-proof bird feeder!
For customers who are sick of spending money on bird seed only to have it quickly eaten by squirrels, the Yankee Flipper is an entertaining treat. Its weight-sensitive, motorized perch ring invites songbirds to feed - holding the weight of up to four cardinals – but as soon as a gray squirrel tries to hop on, the perch ring spins to flip the squirrel off! Other squirrel-proof bird feeders may feature close-down feed ports or deliver mild electric shocks, but the Yankee Flipper effectively and safely keeps squirrels away, while maintaining its status as the only entertaining squirrel-proof feeder on the market.
In addition to keeping squirrels off of the perch ring, the Yankee Flipper has other clever design features that make it a convenient and squirrel-proof choice for winter bird feeding. Its tall, sturdy tube has a heavy metal cap, and holds five pounds of sunflower or mixed seed, reducing the need to fill the Flipper frequently. It is also tall enough to keep squirrels from sitting on top of the feeder and reaching down to access the seed. The Yankee Flipper now features Microban antimicrobial technology to fight the growth of damaging bacteria, mold and mildew on the feeder tube, keeping your feeder cleaner between regular cleanings. And the Flipper's rechargeable battery and durable electric motor provide years of squirrel-flipping fun!
The Yankee Flipper is covered by Droll Yankees' Lifetime Warranty against squirrel damage to the feeder body, and a one-year limited warranty on electronics. To purchase the Yankee Flipper this holiday season, visit your favorite Droll Yankees retailer, call Droll Yankees at 888-851-6621, or order online at http://www.drollyankees.com.
###
In 1969, Droll Yankees started a bird-feeding revolution with Model A-6F, the first tubular bird feeder. Since then, Droll Yankees has built on that success, continually developing innovative approaches to bird feeding that benefit both the birds and Droll Yankees customers. Generations of bird lovers have appreciated Droll Yankees' quality construction, functional simplicity, and commitment to American workers. Droll Yankees offers a Lifetime Warranty and will replace any squirrel-damaged or defective parts, free of charge. To learn more about Droll Yankees' products, visit http://www.drollyankees.com.