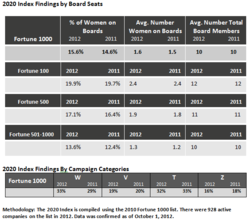 Boston, MA (PRWEB) October 17, 2012
Women now hold 15.6% of the boardroom seats of America's largest public companies, a one percentage point gain over last year, according to the latest 2020 Women on Boards Gender Diversity Index of Fortune 1000 Companies released today. Smaller companies (numbers 501 - 1000) showed the largest gain this year, 13.6% in 2012 compared with 12.4% in 2011 when the 2020 Index was introduced. The 2020 Index quantifies gender diversity on US public company boards from the 2010 Fortune 1000 list. All the companies' gender diversity numbers are displayed in the company directory on http://www.2020wob.com.
The number of "W" companies (those with 20% or more women) grew this year to 308 from 273 last year, a gain of 13%. The number of Z companies (those with no women on their boards) fell in 2012 to 152 from 177 in 2011, a 14% change. The 2020 Women on Boards campaign categorizes companies in four ways: Winning "W" Companies (20% or greater); Very Close "V" Companies (11 - 19%); Token "T" Companies (1 woman) or Zero "Z" Companies (0 women).
"The campaign to put more women on corporate boards is working," said Stephanie Sonnabend, co-founder and chair of 2020 Women on Boards and President of Sonesta Collection Hotels Resorts Suites. "After years of no improvement, this year Fortune 1000 companies added 74 women. Companies of all sizes are getting the message that it's time to put women on their boards."
Malli Gero, co-founder and executive director of 2020 Women on Boards confirmed, "We will continue with our education and advocacy efforts to educate companies that board diversity is a necessary and profitable business practice today."
About 2020 Women on Boards: 2020 Women on Boards is a national campaign to increase the percentage of women directors on U.S. public company boards to 20 percent or greater by 2020. Campaign supporters include individuals, organizations and companies that embrace the principle that diversity in the boardroom encourages good corporate decision-making. For more information, or to register your support, visit http://www.2020WOB.com