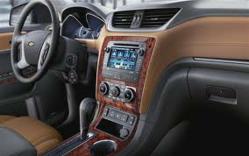 Calgary, AB (PRWEB) October 18, 2012
To stay relevant, every major automaker has to constantly update its stock, and ensure that its renovated product portfolio is consonant with the needs and demands of consumers. In the past five or six years, the crossover has been a competitive market for all automakers, as many young families are discovering the way a crossover combines the spaciousness and comfortability of a minivan with the utility and range of an SUV.
With the Traverse, Chevrolet is up against the Ford Explorer, the Dodge Durango and the Honda Pilot. GM's goal with this unit was to create something more stylish, with a wider range of utilities that simultaneously offered a greater degree of family-friendly perks. With more young people being attracted to the crossover market than ever, General Motors was also looking to appeal to this demographic, with a more contemporary interior and better fuel mileage.
The stakes for this vehicle release are high everywhere, but especially in Canada and Calgary where the market for crossovers is extremely high. Canadians everywhere love their crossovers, as this article indicates, and the reasons are fairly straightforward and easy to understand. The country of Canada encompasses a huge amount of land, much of it uniquely suited to world-class outdoor adventures. To fully utilize all of this space, many young families feel like their best chance is by driving a completely outfitted crossover.
In Calgary, with the Rocky Mountains near at hand, it's easy to assume that the call of the wild is equally persuasive and the resale value of crossovers remains very high throughout all of Canada. With these things in mind, GSL Chev City, one of the largest franchised GM dealers in the city and even the province, is looking forward to selling the 2013 Chevrolet Traverse as early as this week.
There are many expectations among the staff that the transformed Traverse, with the industry's inaugural center-side airbag, a deeply capacious interior perfect for families, and augmented towing capacity, will be a perfect fit for the needs of many auto buyers. If the basic model doesn't suit a given buyer, there are many different designations to choose from, as GM has made their vehicle selections extremely customizable and flexible.
This is a vehicle that is a good fit for any family that needs a lot of space, but is looking to do more than just get from point A to point B, a family that knows that they are going to be going on cross-country adventures that involve extra storage space and hauling a trailer. As a franchised Chevrolet dealer in Calgary, GSL Chev City will be able to offer extensive maintenance and benefits packages in accordance with whatever the manufacturer makes available.