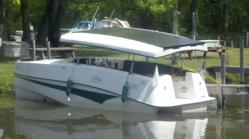 Tempe, Arizona (PRWEB) October 17, 2012
Co-Founder and ASU alumni, Adam Morris, along with retired air force partners Robert Meachum and Jack Caple, will be setting sail on Tempe Town Lake to premiere the Solar Star Boat and become the first company in Tempe, Arizona to sail over 16 hours on a single solar charge.
This all day event will take place from 5:00 am to 10:00 pm at Tempe Town Lake on Thursday, October 18th 2012 proving that the boat can operate under a single solar charge without having to utilize any gas.
Solar Star Boats will have a tailgate tent located in LOT 59 for supporters to meet the Solar Star team and get to know more about Solar Star Boats.
The vision of Solar Star Boats was to create a boat with innovative and eco-friendly features to benefit boat owners as well as, the environment. Co-Founder, Adam Morris, credits his education at Arizona State University for this creation.
Adam and his brother Craig created Offsite Sweeping LLC, a local general engineering firm, which provides street sweeping, storm water management, and dust control. This experience gave them the ability to expand in the boating manufacturing business. The Solar Star Boat project was previously started by Bob and Jack and was able to re-launch after meeting Adam and Craig; utilizing their manufacturing facility. As a former student and supporter of ASU, Adam felt this was the perfect place to introduce Arizona to Solar Star Boats.
Solar Star boats would like to thank our sponsors PRO EM Party & Event Rentals and PTS Multimedia for making this solar powered boat challenge event possible.
About Solar Star Boats
Solar Star Boats is proud to introduce the revolutionary design of the Solar Star 23™. Designed by the legendary New Zealand yacht designer, Tim Clissold, this 23 ft. solar powered boat offers a variety of models incorporating innovative and eco-friendly features to benefit all styles of boat owners all manufactured in Phoenix, Arizona.