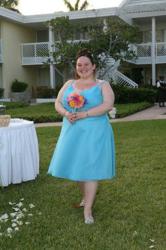 I never saw myself as quite as big as I actually was
Fort Washington, PA (PRWEB) October 17, 2012
Nutrisystem has announced a real-life weight loss success story. The inspiring testimonial is one of many the company will be releasing during the peak diet season. Tara Primis, a Nutrisystem customer and 37 year old mother of two, says, "most people never see themselves quite the same as others see them, for better or worse." For Tara, at 276 pounds, that meant "I never saw myself as quite as big as I actually was."
And yet there were glimpses. Like the time she accompanied friends to an amusement park to ride the tallest, fastest roller coaster in the world only to be singled out and asked to sit in the tester seat because the ride operators were worried about her weight. "I sat in the tester seat and to my surprise, horror, and embarrassment, the belt would not close and I was asked to exit the queue," remembers Tara. She walked away thinking that there had to be a defect in workmanship – that she couldn't possibly be "that big."
The incident with the seat belt on the plane reinforced that when Tara looked in the mirror, she really wasn't seeing what the world was. Even more important to the vegetarian, she wasn't instilling in her children lessons in how to eat properly.
All that changed in September 2008 when Tara sought out Nutrisystem and in particular the company's vegetarian program and aimed for what she dubbed was an "impossible goal" of 145 pounds.
Drawn to the convenience of having meals already planned, Tara liked "not having to think about what I was going to eat every day." But soon she discovered she was eating well-balanced meals for the first time in her life. Tara is frank in describing how she ate before going on Nutrisystem: "being a vegetarian for me had consisted of large quantities of fatty foods and carbohydrates. Nutrisystem helped me discover a balance of fruits, vegetables and proteins I didn't know I was missing in my diet."
Nutrisystem has more than 130 Low Glycemic Index, perfectly proportioned for weight loss®, vegetarian menu items, including: Cheese Tortellini, Black Beans & Ricek, Margherita Pizza, Mushroom Risotto, Blueberry Muffins and Golden French Toast.
Beyond teaching herself tools to navigate nutrition, Tara realized that "awareness of portion size and good nutrition allowed me to help my children learn how to eat properly – a skill I hope they carry with them for the rest of their long and healthy lives."
Tara chalks up her success – 134 pounds lost* – not just to the foods, but also to the impact of the Nutrisystem online community. From recipes and food preparation suggestions to advice and words of encouragement and wisdom, the Nutrisystem community gave her the inspiration and practical tools she needed to stay focused on her journey. That journey that began at 35,000 feet has helped Tara go from a size 26/28 to a size 8*. But more important than a dress size to her is what this life change means for her family, "my children get to enjoy a thinner, more active mommy," she says.
And Tara's husband? Recently Tara was mistaken for her husband's new girlfriend by a couple they hadn't seen for a while, as she notes, "a younger, hotter version of the me they once met."
*Results not typical.
On Nutrisystem®, you can expect to lose at least 1-2 lbs per week. Individuals are remunerated. Weight lost on prior Nutrisystem® program. Weight lost on prior Nutrisystem® program.
To view additional Nutrisystem success stories like Tara, and for more information on the Nutrisystem® SUCCESS™ program and to order today, please visit http://www.nutrisystem.com/success4u or call 1-888-841-2572.
About Nutrisystem
Having helped Americans lose millions of pounds over the last 40 years, Nutrisystem, Inc. (NASDAQ: NTRI) develops evidence-based programs for healthy weight management, and is the leading provider of home-delivered weight loss meal plans. Nutrisystem offers balanced nutrition in the form of low glycemic index meal plans designed for men and women, including seniors, vegetarians and the Nutrisystem® D® program for people with diabetes or at risk for type 2 diabetes. Nutrisystem® plans include a wide variety of pantry and fresh-frozen entrees and snacks to aid in program satisfaction and adherence, as well as transition plans to support long-term success. The Fort Washington, PA-based company also provides weight management support and counseling by trained weight-loss coaches and registered dietitians, as well as through an engaged online community, online tools and trackers, mobile apps, cookbooks and more. Healthcare professionals may learn more about the programs by visiting http://www.nutrisystem.com/hcp. The Company has also introduced a new in-store retail line, Nutrisystem® EverydayTM products, comprised of nutritionally balanced bars, smoothies, bakery and breakfast items aimed at consumers who aspire to eat healthier.