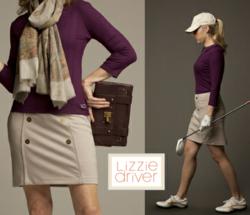 "Lizzie Driver is excited to be partnering with Shi Shi Putter as our exclusive online retail partner." - Karen Preston and Lorrie Forgatch, co-founders of Lizzie Driver
Seattle, WA (PRWEB) October 17, 2012
Shi Shi Putter™, the women's golf apparel blog, has expanded into retail with Shop.ShiShiPutter.com. The new site features high-end women's golf designers Toby Tucker Golf and Lizzie Driver, as well as crossover brands such as Elizabeth Roberts. Watch for pre-sales of Spring / Summer 2013 collections in the coming weeks.
All clothing sold on Shop.ShiShiPutter.com is meant to be worn on and off the golf course and to fit into both social and business settings. "Everything is designed by women who found it challenging to find active wear that fit their style," says Elizabeth Noblitt, founder of Shi Shi Putter™. "As a result, each designer has created a very distinctive look that fits seamlessly into a woman's life and her wardrobe."
To save site visitors time, Noblitt has organized the site's garments by body shape and style to help them quickly find the perfect match. Each garment also has tips on how to wear it off the golf course. The blog features articles on styling and helping female golfers look their best whether attending a PGA tournament or playing a round with clients.
Noblitt's philosophy is that women who golf, particularly for business, should have a consistent style from the office to the golf course. Choosing the wrong golf apparel can have a negative impact on one's professional image. With a wider array of clothing styles to choose from, a woman can exude her true self no matter where she is. Noblitt hopes to make the game of golf more welcoming to women who enjoy the sport and want to look great playing.
To purchase clothing and learn more, go to http://shop.shishiputter.com.
###
ABOUT SHI SHI PUTTER
Shi Shi Putter™ is the premiere online resource for women golfers who play like their style depends on it—on & off the golf course. From spotlighting boutique designers to hosting inspiring workshops and trunk shows, Shi Shi Putter™ curates the cream of the crop; so discerning women can bring their best selves to the course. Founded in 2009 by avid golfer and seasoned event marketing professional Elizabeth Noblitt, the company aims to redefine the game of golf, with a confident blend of beauty, grace and fun. Shi Shi Putter™ is based in Seattle, Washington but holds events nationwide.