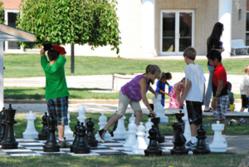 North Ridgeville, OH (PRWEB) October 18, 2012
On October 21st at 1:00 PM Lake Ridge Academy is opening our door for an in-depth look into our classrooms, laboratories, faculty, and incredible facilities. Lake Ridge Academy offers an outstanding college preparatory curriculum, with over 14 Advanced Placement courses, advanced mathematics courses, and fine arts, environmental, and language courses for grades K-12. Our "Class of 2012" received offers from 122 selective colleges and universities and more than $3.5 million in academic scholarships – for a class of 50 students! Please contact the Admissions department at 440-327-1175 ext. 9104 or register at http://www.VisitLakeRidgeAcademy.org
About Lake Ridge Academy
Lake Ridge Academy is an independent, nonsectarian day school offering co-educational classes from kindergarten through grade 12.
Founded in 1963, Lake Ridge Academy is committed to providing small class sizes and maintains an 8:1 student ratio. Located on a beautiful 88 acre campus, we are the only independent college preparatory school on Cleveland's west side.
Our mission is to send into a changing world confident young people of integrity who think critically and creatively while embracing the joy of lifelong learning.