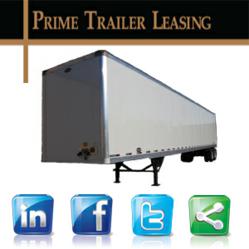 Who Knew Semi Trailers Could Accomplish So Much?
Denver, CO (PRWEB) October 30, 2012
You may know Prime Trailer Leasing as your source for semi trailer rentals or semi trailer sales, but at Prime, they try to go beyond their love of dry vans and refrigerated trailers. Prime is committed to taking their motto of "Relationships Matter" a step further. They recently partnered with a local nonprofit organization, Hope House of Colorado, which exists to empower parenting teenage moms. One of the needs identified by Hope House was the lack of good jobs that were available to their clients. Prime decided to tackle this in a creative way.
Katie Cassidy, Manager of Marketing Events & Community Involvments, summarize the plan,
"We created an internship program where we hire a teen mom through Hope House for one year. During this time, she will receive training, coaching, and encouragement. At the end of that year, Prime will help her transition into a more permanent role with another company where the skills she learned here will be easily transferred. "
Prime recently hired their second teen mom through this program. During her first week at Prime, she wrote Prime's owner, Wes Gardner, an email that stated:
Being a teen mother, I never imagined being able to get an opportunity like this. Society for the most part has been trained to discourage us (teen moms) from ever being able to function independently. Because of this, I feel like it is a fight everyday just to get my foot in the door. The fact that you are working so closely with Hope House and have been able to provide me with this experience is too much for me to put into words. I can only say that I am thankful, and I promise to show that by working hard for your amazing company. Without your interest in Hope House, your generosity and your risk taking (letting us young moms work for such a successful company) I wouldn't be here getting an amazing jumpstart on my daughter's and my future! I look forward to coming into work each and every day!
This experience has not only been impactful for their new employee, but for Prime as a whole.
"This is a great opportunity for us as a team to come together and invest in the lives of this young mother and her child. " quotes Katie. Who knew that semi trailers could accomplish so much?
Prime Trailer Leasing is a "Community-Focused" business located in Denver, Colorado with locations in Salt Lake City, Utah and Reno, Nevada. Prime rents, leases and buys and sells semi-trailers to businesses within the Rocky Mountain Region and across the nation. Prime enjoys hearing from you on their Facebook page or Twitter account.
Hope House of Colorado empowers parenting teenage moms to strive for personal and economic self-sufficiency and to understand their significance in God's sight, resulting in a healthy future for them, and for their children. To learn more, visit their website at http://www.hopehouseofcolorado.org.