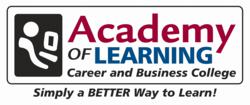 We wanted our website to reflect our evolution in education.
Vancouver, B.C. (PRWEB) October 17, 2012
On Friday, October 12, Academy of Learning launched a complete redesign of their website, offering a new look and feel that match their always-improving philosophy of education.
The website will surely draw attention to many initiatives that Academy of Learning has implemented to provide students with a stimulating and varied learning experience. Among these initiatives is the Virtual Classroom, an enrollment option which embraces ever-changing technology and makes it possible for students in smaller campuses or remote regions to have the opportunity to take programs which would otherwise be unavailable to them. Academy of Learning was the first private career college in many provinces across Canada to offer this type of learning platform.
This development, and so many others, illustrates that Academy of Learning strives every day to be simply a better way to learn. "We wanted our website to reflect our evolution in education," says Heidi Collins, Director, Marketing and Sales. "This is why we went for a complete and exciting website redesign!"
Academy of Learning is among the largest career colleges in all of Canada, offering vocational programs and courses, including business, IT, web design, and healthcare training. Their extensive academic offerings, along with flexible class schedules and a wide range of funding opportunities, has allowed the college over their 25-year history to become a Canadian success story.
The new website will allow Academy of Learning to communicate to a wider audience and appeal to those who are considering returning to college. "With our new website, we hope that people who have perhaps been afraid, or not had the confidence, will now consider going back to college to earn a diploma, to become better trained, to embrace re-education," says Collins. "We hope that our graduates will explore our redesigned website to learn all about the new us! We have more programs and courses being offered than ever before, and in many exciting new fields of study."