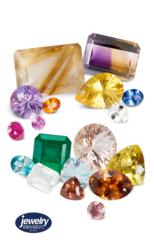 "We travel the globe in search of the best, most exclusive opportunities we can find for our customers."
Knoxville, TN (PRWEB) October 17, 2012
Jewelry Television's team of senior gemstone buyers have returned from the vibrant city of Hong Kong where they met with internationally-acclaimed suppliers to preview the latest gemstone finds from mines around the world. The network will showcase these gemstone finds, as well as bring back customer favorites like watermelon tourmaline slices during its Semi-Annual Hong Kong Gem Event from Oct. 17 through 21.
"We travel the globe in search of the best, most exclusive opportunities we can find for our customers," said Tom Ahles, director of merchandise planning and vendor relations. "It is our passion to discover the world's most thriving jewelry markets, like Hong Kong, and bring new discoveries back to the U.S."
The September Hong Kong Jewelry and Gem Fair 2012 was an energetic hub that featured the latest finds in the gemstone market. Hong Kong is a duty-free port with no restrictions imposed on precious jewelry or materials, making it advantageous for Jewelry Television to purchase at the very best prices.
"Exotic gemstones like aquamarine, prehnite, red spinel, Ethiopian opal and emerald traphiche are extremely popular right now," Ahles said. "This year, we focused on purchasing fine quality stones and rare gems that deliver an air of exclusivity. It's difficult to find many of these gemstones in the U.S."
Check your local listings and tune into the Semi-Annual Hong Kong Gem event or visit http://www.jtv.com for more information.
About Jewelry Television®
Jewelry Television® (JTV) is the only interactive, multichannel shopping network that focuses exclusively on the sale of jewelry and gemstones. The privately-held company was founded in 1993 and broadcasts high definition programming 24 hours a day, seven days a week, to more than 80 million unique households in the U.S. Jewelry Television® was recently ranked the 13th largest retailer of jewelry in the U.S. by National Jeweler. JTV.com is the fifth largest jewelry destination on the internet according to Internet Retailer's Top 500 Guide for 2010. For more information, visit http://www.jtv.com.
###