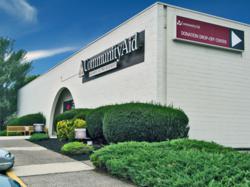 let's keep it local!
Mechanicsburg & Hanover, PA (PRWEB) October 18, 2012
On Tuesday, October 9, 2012 at 10:00 a.m., Community Aid presented four local nonprofit organizations each with a $25,000 grant at Community Aid's Mechanicsburg thrift store on the Carlisle Pike. Amy B. Kaunas, Esq., Executive Director of the Humane Society of Harrisburg; Mr. Chuck Wingate, Executive Director of Bethesda Mission; Miss Jacqueline Rucker, Executive Director of Christian Churches United of the tri-county area; and Miss Molly Helmstetter, Director of Development for New Hope Ministries, were present to accept their respective grants.
Community Aid is a faith-based nonprofit organization with a mission to serve the community by creating good jobs. "We desire to improve the quality of life for the individual and families in our community by providing clothing and cash grants through our partner churches and organizations, and by offering items for resale at very affordable prices that meet the needs of our economically challenged neighbors," commented Executive Director Glenn Chandler. "Our Thrift stores have been a place where families can buy the clothing they need and feel good about it. Our motto is 'let's keep it local!', and our aim is that 100% of net proceeds stay in the local community."
Community Aid will also be awarding checks totaling over $75,000 to its bin partners. "We do this every 3 to 4 months," said Chandler. "Any time you see a Community Aid collection bin at a church or local non-profit, they are part of our mission!"
In the first three years of its existence, Community Aid has grown from 10 collection bins to over 400 bins, from no partners to over 200, and from one store to two, with the real possibility of an east shore store opening in 2013.
Since 2009, Community Aid has awarded over $1,000,000 in cash grants, and over $114,000 in Community Care cards, which help those in need receive free clothing in our stores.