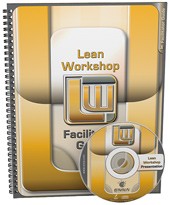 "The facilitator guide was easy to read and understand and had all the tools needed to make our workshop a success."
Lake Oswego, OR (PRWEB) October 18, 2012
A lean manufacturing facility is what will make a business stand out from its competitors and will also make a business successful. Being lean does not necessarily mean for manufacturing industries but can also be implemented into any office, school, hospital environment to name a few. To accomplish a lean facility requires a business to adopt a number of process management programs including 5S system, Kanban, Kaizen, Six-Sigma to name a few. It is not always an easy task to increase production and at the same time, reduce waste and unnecessary costs. But by doing so and with continuous improvement, a business can start feeling the great affect it will have on profits and employee confidence in the daily work environment. Leanmanufacturingsupplies.com has made it easier to create a lean environment by offering the Lean Manufacturing Workshop Facilitator Guide that will help teach trainers on how to facilitate a workshop to teach all employees from the production workers all the way to top management about implementing a lean manufacturing facility.
Effective communication and training is paramount when it comes to conducting a lean workshop internally. The facilitator guide includes vital elements and all the tools to make the workshop a success. The guide will provide the trainer with complete instructions, explanatory text about industry knowledge for each slide, narrative samples that can be used to communicate to the participants, transcripts for visual segments and annotation notes to provide specific input to the facilitator. The guide also comes with a digital media CD with cut edge Flash technology that is better than any PowerPoint design. Leanmanufacturingsupplies.com also offers a free lean manufacturing guide that covers all stages of lean manufacturing step by step and can be emailed directly to any individual. One business owner commented, "The facilitator guide was easy to read and understand and had all the tools needed to make our workshop a success."
Please visit http://www.leanmanufacturingsupplies.com/categories/Lean-Manufacturing-Tools/ or call toll-free (866)777-1360 for more information about lean manufacturing guides, tools and supplies.