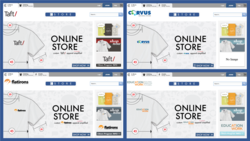 Chicago, IL (PRWEB) October 17, 2012
Izo's portfolio of C-store clients has diversified to include law firms and religious institutions, as well as additional businesses and charitable organizations. Taft Law, Education At Work, Corvus Janitorial Systems, and Flatirons Church are included in Izo's newest C-stores.
C-stores are fully hosted and managed microsites individually branded and designed to meet the custom apparel and product needs of groups, franchises, businesses, and organizations. They assume fulfillment and branding management for each client while offering the software advantages of Customizo.com. Other Izo C-store clients include Stanley Steemer, Hanes4Education, and Shriners Hospitals for Children.
Each store features its own unique catalog displaying an array of customizable products along with the Design Studio. The merchandise assortment, selected by each organization with the assistance of Izo's expert brand management team, is designed to fit each store's end user's needs. The stores also feature pre-designed products which are ready to purchase sans further embellishment in the Design Studio.
About Customizo and Izo Brands: With Customizo, Groupizo and Snapizo, Izo is knitting the framework for the future of e-commerce with a multi-faceted set of innovative product customization and design tools, a unique group collaboration interface, and mobile media distribution applications. Izo's mission is to be the most customer-centric, creative, and innovative company in the custom apparel and promotional products industries.