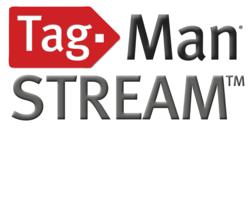 TagMan has been an important partner to Criteo, enabling smooth, fast implementations and improved data collection when integrating and running our code for joint clients.
New York, NY (PRWEB) October 17, 2012
TagMan, the most used, most advanced and most proven Tag Management and Marketing Data Platform, today announced the expansion of its "STREAM" Global Partner Program. The STREAM program is open to best-of-breed application providers; marketing and analytics agencies; and CRM, marketing and eCommerce platforms. Partners seeking streamlined tag implementations, reliable real-time data collection and clean, cross-channel marketing data from an independent source have already applied for program certification.
Currently, the STREAM program includes companies from industries including: search (SEM /SEO), retargeting, attribution, affiliate networks, multivariate testing, eCommerce, mobile, email service providers, web analytics, rich media, marketing automation, demand-side platforms, ad servers, and data management platforms.
TagMan's STREAM Global Partner Program reinforces its independent and open approach to working with the digital services ecosystem to make integration easy and efficient for all partner and customer tags. TagMan's newly launched "Drag-&-Tag" partner tag library reduces the complexity of managing multiple marketing and analytics technologies by automating the integration of partners' tags into the TagMan Tag Management and Marketing Data Platform.
TagMan is pleased to announce that out of the over 250 websites with 5,000 unique digital service tags TagMan currently supports, over one hundred (100) partner companies have already certified their solutions' multiple tags. Certifying within TagMan's "Drag-and-Tag" self-service tag library, has ensured complete coverage of their solutions for TagMan clients.
"The growth of our STREAM program and certification milestones are proof of our commitment to an open, self-service tag management platform," says Jon Baron, CEO of TagMan. "Whether your company's focus is marketing services or technology, TagMan can help facilitate stellar execution of digital initiatives and dramatic marketing ROI through real-time, clear and unbiased visibility into the customer's journey."
A few select Certified TagMan Partners include:
Marin Software, Evidon, Criteo, Linkshare, Netmining, ForeSee, Cardinal Path, Webtrends, Chango, Think Realtime, Channeladvisor, SaleCycle, Yahoo Genome, Sojern, IgnitionOne, Cross Pixel Media, Buysight, Longboard Media, Cognitive Match, Acquisio, Causata, Let's Gift It, Webgains, SiteScout, Turn, Mercent, ReTargeter, SDL Alterian
"TagMan's STREAM Global Partner Program is built on a firm understanding of partners' and their customers' needs. Benefits of the program include a strong focus on developing joint sales and marketing opportunities plus an increased investment in supporting new partners with account management, technical support, training, and consulting services." says Ron Brien, SVP of Global Marketing at TagMan.
TagMan partners have this to say:
"TagMan has been an important partner to Criteo, enabling smooth, fast implementations and improved data collection when integrating and running our code for joint clients."

Vincent Meyer, Director of Corporate Development and Partnerships, Criteo
"We look for every opportunity to streamline the page tagging process for our clients, and TagMan's solution is terrific," said Armin Ebrahimi, CEO of Buysight. "Page tags provide not only the critical data we use to deliver high-ROI campaigns to our clients, but they are critical in helping them understand conversion attribution across multiple marketing channels. We're very happy to be part of this program and offer our clients the benefits of partnering with both our companies."

Ebrahimi, Chief Executive Officer, Buysight
"The complexities and sensitivities surrounding tagging are and will be a hot topic of conversation with our clients – and a critical component of building quality audiences. Our partnership with TagMan allows for easier and safer tag management for everyone involved.

About TagMan:
TagMan is the most used, most advanced and most proven Tag Management and Marketing Data Platform. As the Global Leader in Enterprise Tag Management, companies use TagMan to master the complexities of web analytics, ecommerce and marketing data, and ePrivacy. With Tagman, clients can efficiently manage and unify tag based technologies to produce one independent stream of clean marketing data from all channels. More than 250 enterprise websites across all major industries including Travel & Hospitality, Fashion Apparel, CPG, Consumer Electronics, Financial Services, Pharmaceutical, and Telecom make TagMan the go-to partner for achieving dramatic marketing ROI through effective marketing execution and a clear view of the entire consumer journey. Clients include Travelocity, Virgin Atlantic, Kellogg's, The Body Shop, Air New Zealand, and Vodafone. Find out more at http://www.tagman.com