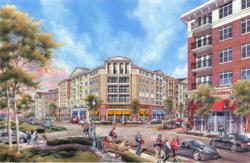 "Bringing Emory Point to the area will positively impact those in the community, fostering a healthy, vibrant place to live, work, shop and dine." Joe Wilber, Senior Vice President Investments, Gables Residential
Atlanta, Georgia (PRWEB) October 16, 2012
Gables Residential and joint venture partner Cousins Properties recently attended the Atlanta Regional Commission (ARC) 2012 State of the Region meeting and received a Development of Excellence Award which recognizes communities in the 10-county Atlanta region that exemplify cutting-edge, livable designs. Emory Point was awarded Exceptional Merit for Infill Development –the highest honor in this category.
Emory Point, http://www.gables.com/emorypoint is the first new retail project built in the Emory area in 20 years and marks the first partnership between Gables and Cousins, both Atlanta-based companies. Located on Clifton Road adjacent to the Centers for Disease Control and Prevention (CDC), phase one of Emory Point features 443 luxury, EarthCraft certified apartments and more than 80,000 square feet of retail and dining space, scheduled to open before the 2012 holiday season. The development also features a one-acre park, 25 acres of protected woodlands, a rainwater capture system, drought resistant landscaping and electric vehicle charging stations.
Emory Point is an example of infill development in a large employment center with a limited supply of residential and retail space, The development will set a new tone for the Emory community, blending pedestrian-friendly retail with luxury apartment living, all in an environmentally-conscious development that is accessible from Emory University, CDC and Emory Healthcare by foot, bike, car, MARTA and the Cliff electric buses.
"We are honored to have been recognized by the Atlanta Regional Commission for the development of Emory Point." said Joe Wilber, Senior Vice President, Investments of Gables Residential. "Bringing Emory Point to the area will positively impact those in the community, fostering a healthy, vibrant place to live, work, shop and dine."
Gables Emory Point is officially open and offers tours of furnished apartment models daily. For more information regarding the luxury apartment homes or retail please call 404-486-0671 or visit http://www.gables.com/emorypoint.
# # #
About Gables Residential
With a mission of Taking Care of the Way People Live, Gables Residential has received national recognition for excellence in the management, development, acquisition and construction of luxury multifamily communities in high job growth markets. Gables Residential owns, develops and manages multifamily communities and mixed-use developments in Atlanta, Austin, Dallas, Houston, South Florida, Southern California, and metropolitan Washington, D.C. Additionally, it has third-party management operations in the Chicago, New York, Boston, Phoenix, Central and North Florida, and Washington State markets. Gables Residential enjoys a healthy portfolio with approximately 36,000 apartment homes under management, including a corporate-owned portfolio of 54 stabilized communities comprising approximately 13,800 apartment homes. An additional 9 communities are under development/lease-up, comprising approximately 2,900 apartment homes. Gables also has the ability to develop another 2,000 apartment homes through its shadow pipeline of undeveloped land owned. For more information please visit http://www.gables.com.