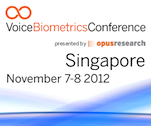 San Francisco, CA (PRWEB) October 16, 2012
Opus Research, top analyst firm in the voice biometrics arena, is bringing its highly successful Voice Biometrics Conference to Asia. The conference is being held at the Swissotel Merchant Court in Singapore on November 7-8. The conference brings together voice biometrics experts and solutions providers to share their experiences for the benefit of attendees. Equally important, attendees will be able to discuss their own challenges and experience with technology providers and implementers, and among themselves.
The two days of sessions are designed to ensure that attendees are up-to-speed with the latest developments in the field. The conference will address:

Voice Biometrics Basics – technologies, architectures and deployment considerations
Best Practices – for enrollment, secure authentication and multi-modal deployments
Balancing convenience and security – in contact centers and in multimodal settings.
Leveraging existing IT, Telecom and Security infrastructures
Defining the future – for banks, telecoms, healthcare, and government agencies.
Speakers and panelists will present applications in secure customer care, mobile commerce, fraud prevention and forensic applications. Discussion will focus on their experience supporting secure interactions for financial services, telecommunications, healthcare and government transfer payments.
Attendees will have the opportunity for discussion with Opus Research's analysts as well as the conference sponsors: Nuance, Avaya, Agnitio, NICE Systems, VoiceSecure and Interlink. Attendees also will be able to interact with speakers who are coming from these and other leading firms including Vanguard Group, ANZ Bank, IBM, Cyber Security Malaysia, and RSA. Interacting with each other, attendees will have the opportunity to explore alternatives offered by peers and colleagues.
Opus Research has provided thought leadership in the voice biometrics arena for over a decade, and has convened the Voice Biometrics Conference in the United States of America and Western Europe since 2007. The Voice Biometrics Conference in Singapore will build upon the success of these conferences, presenting information and fostering discussion for the benefit of attendees who are considering or currently implementing voice biometrics solutions.
For more information about the upcoming conference visit http://voicebiocon.com/
About Opus Research:
Opus Research is the leading IT industry analyst firm focused on "conversational commerce": merging automated speech processing technologies, contact center automation, enterprise collaboration and mobile commerce. For additional information about OPUS Research visit http://opusresearch.net/