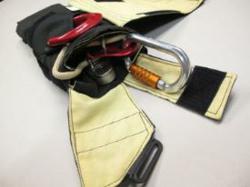 As firefighter escape systems have evolved over the years, so has the carry bag...
Neptune, NJ (PRWEB) October 23, 2012
Firefighter Escape Systems have quickly become standard issue personal protective equipment for firefighters. These systems include 50-feet of cut and heat resistant rope, an auto locking descending device, and anchor hook, an attachment carabiner and a carry bag. The system attaches to a Class 2 harness, also work by the firefighter.
As these firefighter escape systems have evolved over the years, so has the carry bag. Efforts have been made to increase comfort, better distribute the weight of the system and reduce the profile of firefighters. Enter the Gemtor Lumbar Bag.
All Hands Fire Equipment is pleased to offer a new and innovative carry bag. The Gemtor Series 557 Lumbar Escape System Bag. Manufactured by Gemtor, the company that is well known for the Gemtor Harness and Gemtor Fall Protection Equipment. This bag is a more ergonomic way to wear your escape system, and was designed to maximize storage of the systems rope. It attaches externally to the waist belt of the users Class 2 harness and is available for a left or right side deployment.
Some features of the Series 557 Lumbar Bag include:

Available in High Strength ballistic Cordura material or Extreme Duty PBI-Kevlar-Arashield material.
Can be used with many of the firefighter escape systems including the Petzl EXO and the Sterling F4.
Adjustable attachment to accommodate those of different stature.
Access flap is removable for quick and easy access to the system during an emergency.
When worn by firefighter, reduces profile by distributing the system across users back.
Does not interfere with SCBA and bag fits in area below cylinder valve.
The compartmentation of the bag isolates the rope from the descender to avoid abrasion.
The Gemtor Series 557 Lumbar Escape Systems Bag has proven to be an excellent innovation for the fire service and for the evolution of firefighter escape systems. As a leading provider for firefighter escape systems equipment and training, All Hands Fire Equipment expects this bag to quickly become one of the most popular choices of firefighters everywhere.