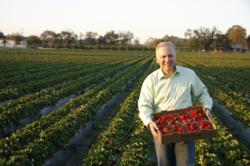 I think America is about giving people opportunity and I feel that everyone should have a chance to succeed in this country. -Gary Wishnatzki
Plant City, FL (PRWEB) October 17, 2012
Gary Wishnatzki, owner of national produce grower and marketer, Wish Farms, was chosen to be one of Bay News 9's Everyday Heroes for his work in the Tampa Bay community and dedication to the Redlands Christian Migrant Association (RCMA). This organization provides quality child-care and early education for the children of migrant farm workers and rural, low-income families throughout Florida.
Since 1997, Gary Wishnatzki and Wish Farms have raised over $330,000 for the RCMA.
"I still stay in touch with some of the first recipients of our scholarship," said Gary Wishnatzki. "It makes me proud to see all the good they are doing in the community and how they can pay it forward."
Prior to Gary's involvement at RCMA, the Wishnatzki family started a scholarship fund at the University of South Florida College of Education to assist the funding of a graduate degree for a student from a migrant or seasonal farm worker family. Through this program, he recognized an imminent need to help the younger generations with their education in preparation for college.
"It's such a good feeling to be able to give back to these children," said Gary Wishnatzki. "I think America is about giving people opportunity and I feel that everyone should have a chance to succeed in this country."
Currently RCMA serves nearly 8,000 children in more than 75 centers throughout Florida. The Leadership Academy in Wimauma, FL is RCMA's newest addition – serving over 130 students in grades six through eight. Gary Wishnatzki and his company, produce marketer and grower Wish Farms, have played an integral role in funding this school with several fundraising activities, including strawberry U-Picks and an annual tennis tournament held in February.
About Wish Farms:
Founded by the Wishnatzki Family 90 years ago, and based in Plant City, FL, Wish Farms has grown to be a nationally renowned produce grower and marketer. Specializing in strawberries, blueberries, and vegetable distribution and marketing, Wish Farms is also a leader in the global food safety and traceability initiative, leveraging their proprietary FreshQC PTI-compliant produce traceability system. For more information on Gary Wishnatzki and Wish Farms visit http://www.wishfarms.com or find them on facebook at https://www.facebook.com/wishfarms.