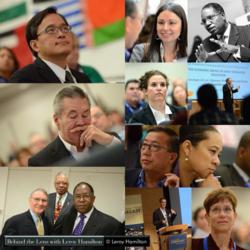 "The way in which we educate the next generation for the 21st Century will shape competitiveness and income and therefore, the better we understand that process the better will our policy be." - Jerry Nickelsburg, UCLA Anderson Forecast Senior Economist
Los Angeles, CA (PRWEB) October 17, 2012
The UCLA Anderson Forecast and First 5 LA partnered for an all-day conference on the economic impact of early childhood education (ECE) and published an index designed to measure human capital in cities and counties across the United States. The two studies focus on the link between ECE and future workforce preparedness. The studies conclude that cuts to California's ECE budget could have a long-term detrimental impact on the California economy. The First 5 LA/UCLA Anderson Forecast City Human Capital Index, which measures adult educational attainment, is an effective indicator of a region's economic competitiveness and vibrancy. Among 30 largest cities in the U.S., Los Angeles ranks near the bottom. The study predicts that if Los Angeles were to increase its score by 10 points, or one schooling year, this would translate to a $27 billion increase in personal income.
"The UCLA Anderson Forecast has partnered with First 5 LA to bring current research on early childhood development to the public policy debate," said UCLA Anderson Forecast Senior Economist Jerry Nickelsburg, "We feel this is an important topic to bring into the policy sphere as the U.S. and California economies are changing in profound ways. The way in which we educate the next generation for the 21st Century will shape competitiveness and income and therefore, the better we understand that process the better will our policy be."
The Economic Impact of Budget Cuts on Early Childhood Education in California
In a paper titled, "The Economic Impact of Budget Cuts on Early Childhood Education in California," UCLA Anderson Economist William Yu, explores the short-term and long-term economic impacts resulting from the on-going ECE budget cut in California. Yu states that short-term negative impact is a decline in ECE workforce employment and ECE enrollments as well as an increased financial burden on families with children ages 0-5. Yu predicts that "the long-term detrimental impact on California could be substantial."
California has cut its ECE budget in both absolute and relative ways. California's latest budget, while increasing 6.3% from the prior year, actually cut ECE programs by 13% or $193 million. Total state funding has substantially decreased from $2.06 billion in 2008-2009, to $1.25 billion in 2012-13. Yu posited that this funding cut for ECE does not reflect an across the board budget cut facing the State, but found that "ECE received a disproportionate spending cut." While looking at declining ECE enrollment, Yu stated, "It is clear that the current capacity of ECE is not sufficient for the demand of ECE."
Citing Nobel Laureate of Economics, James Heckman, Yu stated that "each dollar invested at age 4, compounded through age 65, yields a rate of return of $62 to $330." Assuming a 3% discount rate and taxes, each dollar invested returns $7 to $12 back to society. Yu concludes, "if a government plans to increase competitiveness in order to promote economic growth and mobility, then according to work by Heckman, investment in early childhood education is perhaps the most efficient and effective investment with the highest social return."
"This research makes a compelling case that quality early education is inextricably tied to the economy and workforce development," said Francisco Oaxaca, Director of Public Affairs at First 5 LA. "Policymakers are urged to prioritize targeted investments in early childhood career pipelines, including enhanced professional development and training, scholarship, and loan forgiveness programs."
The First 5 LA/UCLA Anderson Forecast City Human Capital Index
As the UCLA Anderson Forecast has always argued, current education and workforce development in the U.S. are inadequate for the 21st Century. To measure current job skill and human capital levels, First 5 LA and Dr. Yu of the UCLA Anderson Forecast teamed to create a City Human Capital Index (CHCI). The goal of CHCI is to be a barometer for measuring and comparing the level of human capital in each city and is based mainly on adult resident's education attainment. Measurable data is supplied from 5-year estimates collected by the American Community Survey of the Census Bureau. The score is directly correlated to other economic performances such as income and unemployment rate. As such, it is a valuable economic indicator.
According to Yu, "the labor economic literature has provided well-known evidence: the rule of thumb is that each additional schooling year for an individual will increase one's wage by 10%....in other words, the higher human capital causes the higher income because of the enhanced productivity."
National:
For the 30 largest cities in the U.S., Washington D.C. is ranked number one with a CHCI of 140.5 (14 schooling years), followed by Boston, San Francisco, Minneapolis and Seattle. The largest metro- New York -comes in 15th with a CHCI of 132.4, followed by the third largest metro-Chicago-with a CHCI of 132.4. And second largest metro – Greater Los Angeles Area (L.A. County and Orange County) - ranks as 27th with a CHCI of 126.6. The lowest scoring metropolitan area is Inland Empire, with a score of 123.1.
Los Angeles:
Los Angeles County's CHCI is 124.8, meaning that its residents' average human capital level is about 12.5 years. In California, L.A. is lagging behind other coastal counties, such as San Francisco, Silicon Valley, Orange County and San Diego.
The income per capita in L.A. on average from 2006-2010 is $27,344 per year. According to Yu, "If L.A.'s CHCI could improve by 10 to the proximate level of San Diego's, L.A.'s income could be predicted to increase by $2,734, in general to $30,000. This translates directly to an increase of $27 billion for the whole of L.A. County's personal income."
ECE Works! Conference
The UCLA Anderson Forecast and First 5 LA presented a special forecast to on Wednesday, October 10, 2012. The conference's special topic was "The Economic Impact of Early Childhood Education, A Linchpin of L.A.'s Business Profitability and Global Competitiveness?" The conference was designed to explore the relationship between quality early childhood education and global competitiveness. This full-day conference brought together a diverse constituency of academic scholars, policy makers, business leaders, philanthropists and young professionals – all discussing quality early childhood education as a critical sector of the economy that delivers the highest return on investment and a unique competitive advantage. The speakers at this event include the following: Robert H. Dugger, Managing Partner, Hanover Investment Group; Noel Massie, President, UPS, Central District; Neal Halfon, M.D., M.P.H, Director of UCLA Center for Healthier Children, Families & Communities; Curren D. Price, Jr., Senator, California State Senate; Edward Leamer, Director, UCLA Anderson Forecast; Jerry Nickelsburg, Senior Economist, UCLA Anderson Forecast; William Yu, Economist, UCLA Anderson Forecast; Lynn Karoly, Senior Economist, RAND.
About First 5 LA
First 5 LA, a child advocacy organization created by California voters to invest Prop 10 tobacco tax revenues, supports programs for improving the lives of children from prenatal through age 5 in Los Angeles County.
About UCLA Anderson Forecast
UCLA Anderson Forecast is one of the most widely watched and often-cited economic outlooks for California and the nation and was unique in predicting both the seriousness of the early-1990s downturn in California and the strength of the state's rebound since 1993. More recently, the Forecast was credited as the first major U.S. economic forecasting group to declare the recession of 2001. Visit UCLA Anderson Forecast on the web at http://uclaforecast.com.
About UCLA Anderson School of Management
UCLA Anderson School of Management is among the leading business schools in the world. UCLA Anderson faculty members are globally renowned for their teaching excellence and research in advancing management thinking. Each year, UCLA Anderson provides a distinctive approach to management education to more than 1,800 students enrolled in its MBA, Fully-Employed MBA, Executive MBA, Global Executive MBA for Asia Pacific, Global Executive MBA for the Americas, Master of Financial Engineering, doctoral and executive education programs. Combining selective admissions, varied and innovative learning programs, and a world-wide network of 37,000 alumni, UCLA Anderson develops and prepares global leaders. Follow UCLA Anderson on Twitter at http://twitter.com/UCLAAnderson, or on Facebook at http://www.facebook.com/uclaanderson
###