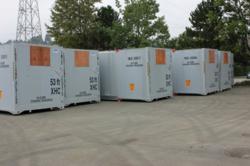 Mississauga, ON (PRWEB) October 18, 2012
Trailer Wizards Ltd., Canada's nationwide leader in trailer rentals and trailer sales, now have brand new CIMC containers and chassis available in Canada.
The latest inventory includes:

Tridem 40-53' Expandable Chassis (Eastern Canada only)
53' Domestic, Heated Containers
53' Domestic, Dry Containers
Coming Soon:

53' Domestic, Refrigerated Containers
"One of our goals here at Trailer Wizards is to be your one-stop-trailer-shop, coast to coast," President Doug Vanderspek explained. "These containers and chassis will help us meet the growing needs of our customers to provide intermodal as well as over-the-road solutions. Not to mention we're one of the few companies with access to CIMC's container parts on a weekly basis resulting in less down time for our customers' fleets."
CIMC has over 40% market share in the international container business and 56% market share in the dry marine container market. Established in 1980, CIMC has been the biggest container-manufacturing company in the world since 1996. CIMC's products have become staples in the transportation industry through forward-thinking, long-lasting galvanized parts, and extensive detail on exceptional product quality.
Contact a Trailer Wizards Sales Representative for more details. If you're planning ahead and would like to learn more about availability, call now 1 855 EASY RLS (1 855 327 9757).
Trailer Wizards Ltd. formed in 2010 as a result of the merger between Lions Gate Trailers Ltd., Provincial Trailer Rentals, and other select providers that form a strategic network. Trailer Wizards Ltd. locations include Vancouver, Calgary, Edmonton, Winnipeg, Mississauga, Montréal, Moncton, Regina and Saskatoon. To learn more about Trailer Wizards, please visit http://www.trailerwizards.com.