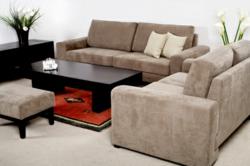 It's all about functionality nowadays.
San Francisco, CA (PRWEB) October 17, 2012
Avetex Furniture, a company specializing in modern and contemporary furniture, has recently seen a sharp rise in the number of furniture purchases from people in their twenties and early thirties. Altogether, Avetex Furniture has reported that sales have increased by 20% within the past three months.
Marina Shnayder, owner of Avetex Furniture says that "Traditionally, the power buyers have always been people in their mid-thirties to early forties. But now, we're seeing the pendulum swing towards a younger crowd."
Ms. Shnayder speculates that the rise in Avetex's sales figures can be attributed to two factors. One is an increased number of younger homeowners. The other is the growing popularity of contemporary furniture.
"We're seeing a lot more young people settling down and purchasing homes, even in these tough economic times," Ms. Shnayder says. "The census data shows that young home ownership is growing across the board. As more and more young people start owning homes, more of them are coming to us for their furniture."
When asked about the other reason—the popularity of contemporary furniture, Ms. Shnayder says that the elegant and clean design style of contemporary furniture is highly appealing to a younger purchasing crowd.
Ms. Shnayder states that "It's all about functionality nowadays. A hundred years ago, people would look at a table and say 'well, that looks useful, but I want it to look sophisticated.' Now, people don't care about how sophisticated something looks, they're more concerned about how well it's going to do its job and how that will fit in with their budgets. It's all part of the reason why there are more skyscrapers being built than Victorian mansions."
Ms. Shnayder is very positive that the upward trend in furniture purchase will continue. He says that "as the economy starts to recover, home ownership will start to skyrocket, especially in the younger generations. It's not too far-fetched to say that our sales could rise by another 20% or so within the next few months."
Avetex Furniture offers an assorted furniture pieces, ranging from bedroom to living room. In addition to full room sets, Avetex also offers individual pieces like couches, coffee tables, rugs, and office furniture. For more information on Avetex Furniture, please visit the website at http://www.avetexfurniture.com.