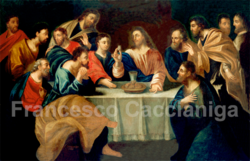 We own the original painting. Never before has this peice been available to the public for re-print purchases.
San Diego, CA (PRWEB) October 20, 2012
TheLastSupperArt.com is proud to announce the fine art reproduction of Francisco Caccianiga's masterpiece The Last Supper. The original painting of Jesus' last meal with his disciples the night before he was crucified and ascended to heaven has been reproduced by Art World Publications, and is now available for sale at TheLastSupperArt.com "The Last Supper is one of the few original oil paintings by Francisco Caccianiga that was ever sold," says Floyd Jones, the current owner of the painting. "The Catholic Church kept most of his paintings." Francisco Caccianiga painted The Last Supper in Milan in 1725, near the end of his life. The Caccianiga family had passed the painting down from generation to generation. Eventually it found its way into the Los Angeles Museum of Art, where it hung for 38 years.
In 1976 Floyd was attending an art show in Monterey, California. There he met an art owner who was terminally ill. The man needed to sell The Last Supper painting to pay his medical bills. Floyd, a devout Christian, was curious and met the man at a warehouse to view the painting. Floyd fell in love with the painting, despite the fact that it was in poor condition. He purchased The Last Supper painting, and spent an additional $10,000 to have it restored.
"This painting has a unique spiritual ambience," says Floyd. "It's far more religious than Leonardo Da Vinci's rendition of The Last Supper. My hope is that Christians everywhere can enjoy it."
Art World Publications uses a high definition printing process called giclee. The permanent inks are printed directly on canvas and look like oil paintings. The Last Supper Art reproductions are available for sale only at TheLastSupperArt.com.