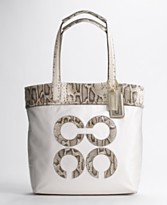 (PRWEB) October 16, 2012
Wholesale brand name handbag article published by Donny Lowy, the CEO of CloseoutExplosion.com, a New York wholesale business based in Greenpoint, Brooklyn. The article, titled, "How A High Price Can Mean More Sales In The Wholesale Handbag Business," discusses the advantages of optimal pricing in the handbag business. While it might seem counter-intuitive to expect more sales at a higher price point, Donny Lowy explains how setting a higher price can lead to a larger volume of retail sales.
"Prior to launching my wholesale business, I spent time selling at New York flea markets, as well as online, and I discovered how perception of a product is influenced by its retail price. While in my wholesale business I price my merchandise at below wholesale prices, I recommend that retailers set reasonably high prices for their brand name merchandise, this way customers will perceive the accurate value of the items being sold," said Donny Lowy.
"This concept is definitely applicable to the designer handbag business, where the expectancy is that original authentic brand name bags, by brands such as Coach, Guess, and BCBG, are expensive. If a retailer prices his or her handbags too low, shoppers will question the authenticity and quality of the merchandise," continued Donny.
Closeout Explosion exports wholesale products to many resellers, including to boutiques in Nigeria, clothing shops in Kenya, kiosks in South Africa, and fashion stores in Trinidad and Tobago. Based on his first hand experience supplying closeout goods from his Brooklyn warehouse, and personal interaction with his overstock buyers, Donny has accumulated import business experience which he is glad to share with his customers and potential buyers. He understands that for his wholesale company to maximize its growth, his customers must have profitable businesses, whether they have a dollar store, flea market booth, or eBay business. It is for this reason that he publishes his free reports and articles covering a wide range of topics on the surplus and liquidation business.
There is a very large demand for wholesale handbags both in the United States and overseas, especially in countries that have a growing middle and upper class, such as Nigeria, Ghana, Mexico, South Africa, Dubai, and Brazil. These newly affluent customers want genuine designer bags, so the challenge for a retailer is finding a legitimate source that can still supply them at reasonable below wholesale and closeout prices. Donny Lowy's NY closeout business is able to fulfill this need by selling overstock and store return merchandise to off price buyers.