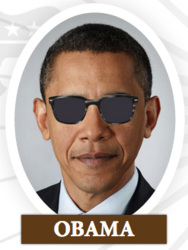 Houston, TX (PRWEB) October 17, 2012
Nevermind whether or not our presidential candidates prefer boxers or briefs underneath their eye-catching suits, what Benji Frank really wants to know is their official presidential stance on browline or horn-rimmed... eyeglasses, that is.
In an effort to add a touch of sophistication to this year's debate, Benji Frank is encouraging voters to frame the presidential candidates' faces by fitting them with stylish eyeglasses or sunglasses from his new designer collection.
By visiting the Framing the Political Debate page of the Benji Frank website, anyone can fit President Barack Obama and Governor Mitt Romney with up to 25 different pairs of glasses in a variety of styles and colors. Once the visitor has chosen the future presidents new pair of specs, they are then able to share the image of the candidate wearing their favorite pair of glasses with their Facebook friends.
With every 10 shares on Facebook, Benji Frank will donate a pair of eyeglasses to Operation Eyesight, an organization dedicated to eliminating avoidable blindness. As part of the company's charitable mission, "One Pair, One Vision," Benji Frank will donate up to 1,000 pairs of glasses to the less fortunate through this patriotic promotion.
Benji Frank's beliefs are simple: Deliver value in everything you make and give back to the communities with what you earn. Apart from "Framing the Political Debate," the company vows that with each pair of glasses purchased, Benji Frank will also help to restore vision to someone in need.
To take part in "Framing the Political Debate," visit BenjiFrank.com/Debate.
About Benji Frank
Benji Frank is a Houston-based online retailer that manufactures and sells sunglasses and prescription eyeglasses for $100 a pair. All eyewear is made with the highest quality materials and crafted in the latest designer styles. Each pair is constructed of handmade Italian or Japanese acetate that's infused with vibrant color and assembled with custom metal hinges, manufactured to Benji Frank's exact specifications. With each eyewear sold, the company helps to restore the vision of someone in the world through its One Pair One Vision program.
To learn more about quality eyewear that helps people in need, check out http://www.BenjiFrank.com.