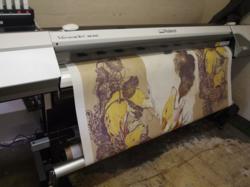 A place for creativity to come to life.
(PRWEB) October 18, 2012
The Creative Hub are delighted to announce the launch of a space where creative ideas come to life, no matter how big or small. Located in Melbourne's CBD, The Creative Hub offers a space with a variety of facilities including digital fabric printing, laser cutting and industrial sewing machine hire.
Nominated for the prestigious Anthill 30under30 Entrepreneur award, founder of The Creative Hub, Linda Vydra, has a visionary concept of developing a space for artistic minds to feel inspired and allow their ideas to flow and see them through to fruition, with an array of modern facilities to aid with this process.
Through the allocation of a grant from the City of Melbourne, The Creative Hub was able to purchase a digital fabric printer. Digital fabric printing (known as dye sublimation onto polyester) is a high quality, economical form of printing, which can be used for an array of applications including fashion fabric, swimwear, photo canvases, leggings and tablecloths. This method is widely used by many fashion designers, interior designers and also for corporate wear as it produces a high quality finish.
The Creative Hub also houses a laser cutting machine which can cut and engrave a vast range of non-metal materials. The possibilities are endless with laser cutting and can create intricate and unique designs with immense detailing. Materials include acrylic, ply, cardboard, paper, polyproperline, other timbers and so forth. The industrial sewing machines are also available to rent after business hours and also on weekends.
"Let your creative visions blossom at The Creative Hub, with all tools you need at your fingertips."