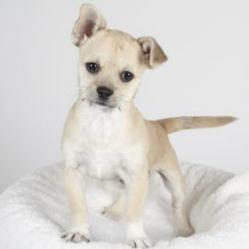 San Francisco, CA (PRWEB) October 16, 2012
Violet, a 10-week-old puppy, was stolen from the San Francisco SPCA's Adoption Center at approximately 2:00 pm on Tuesday, October 16th. The SF SPCA's staff members are very concerned for her well-being.
Violet is a brown and white terrier mix puppy (photo below). She has not yet received all of the vaccines necessary to be protected from fatal diseases such as parvo and rabies. Until she is old enough to complete the vaccine series she should not be allowed to walk on the ground, which is where the parvo virus can live, or socialize with unvaccinated dogs.
Recently Violet was transferred to the SF SPCA from San Francisco Animal Care & Control. SF ACC staff members found her abandoned in a garbage can and brought her to the shelter.
Violet was spayed two days ago, on October 14th, and needs to be closely monitored in case complications arise from her surgery. Violet's microchip number is 982000197006884. She weighs approximately 7 pounds.
The case was filed with the San Francisco Police Department, and the Mission District Station is handling the investigation. The SF SPCA is reviewing the surveillance video footage with the hopes of releasing a photograph of the alleged criminal.
The SF SPCA is offering a $500 reward for Violet's safe return. We urge anyone with information to call the SF SPCA at (415) 522-3507.
The San Francisco SPCA
The San Francisco SPCA is a community-supported, non-profit animal welfare organization dedicated to saving, protecting and providing immediate care for cats and dogs who are homeless, ill or in need of an advocate. The SF SPCA also works long-term to educate the community, reduce the number of unwanted kittens and puppies through spaying and neutering, and improve the quality of life for animals and their human companions.
Support the San Francisco SPCA by adopting, donating, volunteering and becoming a client of the state-of-the-art SF SPCA Veterinary Hospital at the Leanne B. Roberts Animal Care Center. SF SPCA has San Francisco volunteer opportunities to care for shelter dogs and cats, conduct adoption counseling, assist clients and veterinary staff at the Leanne B. Roberts Animal Care Center, provide foster care, help with the Community Cats Program, and enrich the lives of people in the community through animal-assisted therapy.
For more information about San Francisco pet adoption, call the San Francisco SPCA at (415) 522-3500 or visit sfspca.org.