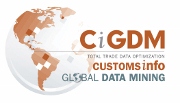 With your help, they have got a future
Eden, UT (PRWEB) October 17, 2012
CUSTOMS Info | Global Data Mining (CiGDM), leaders in trade compliance data and data management are partnering with the Durlstone Foundation (Durlstone) to build a better future for Zimbabwe one child at a time.
When: Beginning in September of 2012
What: The Desktops & Desks™ program supports the educational component of Durlstone's mission: to provide at least seven years of elementary education for the children of Zimbabwe.
The Classification Desktop™ by CiGDM is a highly specialized, proprietary software application designed to help international trade professionals become extraordinary in their management of global trade data.
Desks represent a symbol of education. In fact, a school desk means so much more. It represents the opportunity for a child to achieve a basic education that becomes the cornerstone for the self-confidence required to build a successful, and perhaps, an extraordinary life.
Our first year goal is to donate $15,000 or more by the ICPA EU Conference in Dublin, Ireland, June 23-25, 2013. Donations will come from GDM's donations on behalf of our clients using the Desktop™ and from donations offered from within the trade professional community through CiGDM education and outreach efforts.
Quote: "I am so pleased that CiGDM is devoting its time and resources to support the works of our foundation" says Martha van Duren, Founder of the Durlstone Foundation. "I can now imagine a future where every student has a desk to sit on and the books needed for effective learning. As we say in Holland, 'Met Uw hulp hebben zij een toekomst'. It translates into English as, 'With your help, they have got a future'".
About Desktops & Desks™
The Desktops & Desks™ program supports the educational component of Durlstone's mission to provide education and opportunity for the children of Zimbabwe. The program aims to bring attention to the good works of the Durlstone Foundation for the purpose of generating interest and donations from the international trade community. To make a direct donation to Durlstone Foundation, send a check to:
Durlstone Foundation c/o Desktops & Desks™
Mr. M. Verweij, treasurer
Vaarsloot 22
3956 TJ LEERSUM
The Netherlands
About CiGDM:
CUSTOMS Info (Ci) and its sister company Global Data Mining (GDM) help businesses optimize global trade management (GTM) systems and streamline global trade automation.
Ci provides the world's most comprehensive trade data repository delivered via web-based subscription, API web services or as data to populate any GTM or Landed Cost application. Ci is the largest provider of duty and tax content for international e-commerce with hundreds of e-commerce sites utilizing our data to provide accurate landed cost information. Our data and services provide faster deliveries and fewer border delays.
GDM helps multi-national companies increase the informational value of trade data and the productivity of global trade staff to reduce operating costs, improve customs compliance, accelerate supply chain speed and maximize the return on investment of this corporate function.
Our specialized strategy focuses on five areas of trade data optimization. Customs Info offers regulatory data formatted for lightning fast on-line research (#1) or formatted for computer automation (#2). GDM specializes in item compliance management (#3), customs audit compliance (#4), and business intelligence that identifies and quantifies financial opportunities and risks (#5).
Working in conjunction with GTM applications, Global Data Mining and CUSTOMS Info's strategic partners include SAP, Oracle, and other trade software partners. Please visit http://www.customsinfo.com , http://www.gdmllc.com for more information.
About the Durlstone Foundation:
In 1981, Dutch citizen Martha van Duren began to build a school for the children of the employees on the Durlstone farm. Very soon the neighboring children also joined the school and together with their employers took care of this school. With the exception of a few donations the school was entirely self-sufficient. However, in the year 2000, the neighboring farms where acquired during the land acquisition and redistributed among poor but large African families. The school now has over 800 pupils. As we deal with the poorest group in the population of Zimbabwe they need our help to keep this school running properly. Martha really wants to continue to give these children an education but cannot do this alone. That is why in 2007 the Durlstone Foundation was set up.
The mission of Durlstone is threefold:
1. Provide at least seven years of elementary education for the children of Zimbabwe.
2. Support orphans attending Durlstone School and, if necessary, find suitable foster families for them.
3. Educate, provide opportunities, and support women within the community.