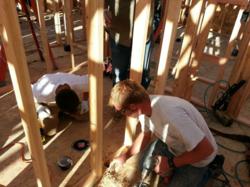 The final product wasn't just a physical structure for the family in need, it was hope.
Salt Lake City, UT (PRWEB) October 18, 2012
Responding to their community responsibility, Glover Maintenance's plumbing and HVAC construction company, PHE Mechanical and other local businesses took part in a project undertaken by Habitat for Humanity. PHE Mechanical, along with Westland Construction, Southwest Plumbing Supply, McCoy's Flooring and Cabinets, Magleby's Construction, and Powerhouse Electric, built a home for a local family, the Fullmers from Payton, Utah, in just 10 days. Ten days may sound too short but as part of Habitat for Humanity's Home Builders Blitz projects where local professional builders and affiliates are enlisted to work together to organize building a home from scratch to finish, it became possible.
The result is a great story of camaraderie, success and inspiration. The circumstances of building a house on a very limited time frame can present difficulties. Add to that the fact that several people coming from different companies have to work around the same time to complete the project and it is enough to say it can't be done. But it was accomplished and in an admiring way, too. Everyone worked professionally and got along despite minor challenges. The greatest accomplishment, however, was the final product of everyone's efforts. After 10 days a complete home was ready for the Fullmers who have had financial difficulties due to the head of the household's medical condition. Now with their own home they have a fresh start and a better opportunity to make ends meet. The final product wasn't just a physical structure for the family in need, it was hope. This significant contribution and accomplishment not only benefits one family but the whole community.
Anyone who has witnessed successful community service knows it can be inspirational. It can be the beginning of more to come. Thanks to Habitat for Humanity and local companies like PHE Mechanical, the community doesn't have to look very far to find the means to help their own.