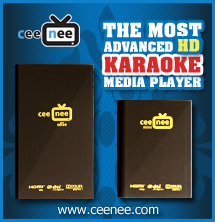 Our mission is to provide home entertainment systems which bring more enjoyment and experience while using the system with emphasis on quality, customer service, on-time delivery at reasonable and competitive price.
San Jose, California (PRWEB) October 18, 2012
CeeNee has just released two new products as CeeNee miniPlus HD Karaoke/Network Media Player and CeeNee CuTee Auto Audio Volume Control. CeeNee miniPlus has all features of the CeeNee eeTee, but does not have internal HDD.
CeeNee CuTee uses advanced Digital Signal Processing for quick, automatic volume adjustment - in less than 1/100th of a second. It has a built-in hands-free technology that provides high performance noise and echo cancelling. CeeNee CuTee is compatible with any AV device using RCA connectors. It can adjust bass and treble signals automatically to improve sound quality. With CeeNee CuTee, customers were not startled by obnoxiously loud TV programs/karaoke songs/TV commercials. The volume level is stabilized, so you won't be bothered by annoying volume dips or peaks. It protects the loudspeaker by limiting the amplifier output power. Last but not least, it boosts low-level signals without distorting the high-level ones. With this price range, the CeeNee CuTee is the best product in the industry. It is even better than the ones that are 2-3 times more expensive. A third party vendor conducted the tests in their lab, and the result was excellent.
The free iCeeNee app allows customer to control the CeeNee devices via Wi-Fi or Ethernet signal on the same network they are connected to. Customers now can directly enter information via the phone's keyboard instead of having to fumble around with the onscreen keyboard using the remote control. Customers can also quickly search for media files and can even control the playback volume. Since the remote app works via Internet, customers don't need to hold the phone in a line of sight to the player.
Many FREE software are waiting for CeeNee customers as Karaoke Song Books Creator and Audio Switch Channel
CeeNee strives the best to serve value customers. Please do not hesitate to contact CeeNee 408-890-5018 or email sales (at) ceenee (dot) com for further questions.
About CEENEE, INC
CeeNee, Inc. has been a leading consumer electronics manufacturer with both wired and wireless home entertainment systems and digital electronics since 2010. The company is headquartered at San Jose, CA. CeeNee HD Karaoke/Network Media players have been very popular, especially in the Karaoke and home entertainment areas.
CeeNee has the CeeNee mini HD Karaoke/Network Media player and the CeeNee eeTee HD Karaoke/Network Media player with a built-in 2.5" internal hard drive (from 750GB to 2TB). The CeeNee eeTee has more streaming power and supports Wi-Fi, 3G or 4G. When connecting to two external hard drives (up to 8TB), CeeNee eeTee Karaoke/Network Media player can play approximately 50,000 Karaoke songs and HD movies. Also, CeeNee players are able to support various Karaoke formats such as AVI, MKV, M2TS, VOB, MP3-XML and MP3- CD+G.