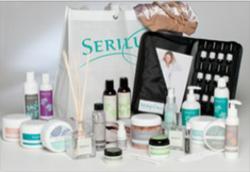 "Seriluna's mission is to help women create financial security for themselves and their families by providing reasonably priced, natural skincare, spa products and loungewear to their network of friends and family," says Steve Schuster, Founder & CEO.
Franklin, MA (PRWEB) October 17, 2012
Seriluna, the new and chic skincare, spa, and loungewear company, unveils an exciting lucrative entrepreneurial opportunity designed for the modern woman who is passionate about wellness and skincare. Seriluna offers a flexible new career or second income as a Spa Consultant.
SERILUNA - THE OPPORTUNITY
Seriluna wants its clients to feel completely pampered, which is why the spa quality, natural products are available exclusively through Independent Seriluna Consultants. From a casual patio gathering to a sophisticated evening cocktail party, or a "Spa Happy Hour," Seriluna Consultants offer an intimate and entertaining opportunity that emphasizes the importance of relaxation in a hectic and stressful world, focusing on wellness and natural beauty. Consultants educate their guests on the latest skincare ingredients, while they sample anti-aging lotions, natural scrubs, nourishing butters, and fall in love with the collection of spa-inspired loungewear, all in the intimacy and comfort of a warm home environment.
"Seriluna's mission is to help women create financial security for themselves and their families by providing reasonably priced, natural skincare, spa products and loungewear to their network of friends and family," says Steve Schuster, Founder & CEO of Seriluna, "We believe that through our simple direct sales approach, women can earn extra money doing what they love surrounded by the people they love. We are excited to support women who would like to start their own business and create something for themselves while nurturing others and enhancing their well being and natural beauty."
SERILUNA – THE BUSINESS
Founded by Steve Schuster in 2011, Seriluna (http://www.seriluna.com) is part of a new breed of direct sales companies offering budding women entrepreneurs a way to earn real money, full time or part time at home, after work. Seriluna gives women the opportunity to earn high commissions on its line of superior quality, made-in-the-USA, reasonably priced, natural skincare, spa products and loungewear line. For as little as $99, any woman can launch a skincare spa business out of her home and immediately start earning $500 - $1,000 per month or even more, by tapping into her existing network of friends from her community.
SERILUNA – THE PRODUCT LINE
"With so many products containing new ingredients hitting the market each year, it can be a bit overwhelming. Our clients benefit from education on skincare ingredients;" says Schuster. "Many women are unaware of the toxins they put on their skin with the average store bought brands. Our Consultants are helping themselves by helping their friends and family lead a healthier lifestyle."
Seriluna's beauty and spa brand assures women they will experience a transformation through technologically advanced, nutrient-rich, and high performance, formulations that improve their appearance, overall skin health, as well as provide environmental protection. All of the natural products are made in the USA.
Facial Care
Seriluna offers an entire line of natural anti-aging facial care products. These skincare products are full of the finest natural ingredients and are an arsenal against the skin's signs of aging. All of the products are free from potentially harmful toxins such as sodium lauryl and sodium laureth sulfates, aluminum, and parabens. Additionally, all products are free from animal testing.
Body Care
Seriluna is proud to offer high quality products using only the safest and most effective skin nourishing, natural ingredients including:

Hyaluronic acid to penetrate deeply and help promote healthy new skin cell regeneration;
Vitamin E, for its restorative properties and protective anti-oxidants; helps fortify the skin against the damaging effects of the environment;
Vitamin K, in high concentration helps reduce the appearance of stretch marks, spider veins, and under eye circles;
A unique combination - Ester of Vitamin C and E, along with soothing and stimulating botanicals;
Aloe leaf extract and organic black willow bark lightens and helps fade sun damage and age spots while firming the skin;
Caffeine, a powerful ingredient, helps reduce the appearance of cellulite;
Enhanced with peppermint, spearmint, rosemary, and sweet orange essential oils result in smoother, tighter, and younger looking skin;
Shea butter is used for its deep hydrating effects;
High concentrations of Omega blends, such as aloe butter and green tea, both of which are skin firming nutrients that help stimulate new collagen-rich cell growth;
Loungewear
Seriluna's spa inspired loungewear is crafted from the softest materials available. All loungewear comes pre-laundered for an added silky texture. These luxurious, natural fiber mix and-match separates are perfect for relaxation and lounging. Once you have any piece of Seriluna's clothing on, you won't want to take it off.
Environment
Instantly change the mood of a room with Seriluna's environment collection. Scent is the easiest way to create an ambience. Their Linen Mist may be used to scent the skin, a room, as well as on linens. Understated, modern Seriluna Brazilian sea crystals and diffusers effortlessly and continuously add a light and fresh scent to any space.
Seriluna features an exceptional selection of fragrance and essential oils that have been developed for custom scenting and will help clients create their own signature fragrance line.
All skincare, spa products, and luxurious spa loungewear are proudly made in the U.S.A.
To find out more about how you can join the Seriluna team, please visit http://www.seriluna.com or call 888-380-2931.